Cisticola natalensis
Identification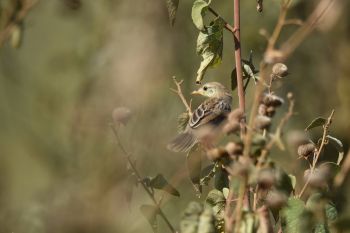 Length 15 cm. Heavy for a Cisticola; males 25 g, females 18 g
The crown and back are buffy brown with dark streaks and the flight feathers are brown, fringed rufous. The underparts are pale buff, and the legs and feet are pinkish brown. The dark bill is heavy and the eyes are brown.
The call, heavy build and large bill are useful diagnostic features.
Distribution
Sub-Saharan Africa. Generally resident; some populations move seasonally.
Taxonomy
There are seven[1] to nine [2]subspecies, based on variation in the colouration and streaking of the upperparts, but most are poorly differentiated.
Sudan (White Nile and Blue Nile regions)
Southern Ethiopia and south-eastern Somalia to northern Kenya
Habitat
Open grassland and savanna; prefers rank vegetation.
Behaviour
Usually solitary. Inconspicuous and shy, except when calling (often from a prominent perch) in the breeding season.
Diet
Forages low in vegetation or on the ground, mainly for invertebrates, but also for seeds.
Vocalisation
The call is distinctive; a loud croak "q-RRRRP" which is about 1 second long, repeated every 2 seconds.
References
Clements, JF. 2011. The Clements Checklist of Birds of the World. 6th ed., with updates to August 2011. Ithaca: Cornell Univ. Press. ISBN 978-0801445019. Spreadsheet available at http://www.birds.cornell.edu/clementschecklist/downloadable-clements-checklist
Hockey, PAR, WRJ Dean, and PG Ryan, eds. 2005. Roberts' Birds of Southern Africa. 7th ed. Cape Town: John Voelcker Bird Book Fund. ISBN 978-0620340533
Recommended Citation
External Links