Alternative name: African Golden-breasted Bunting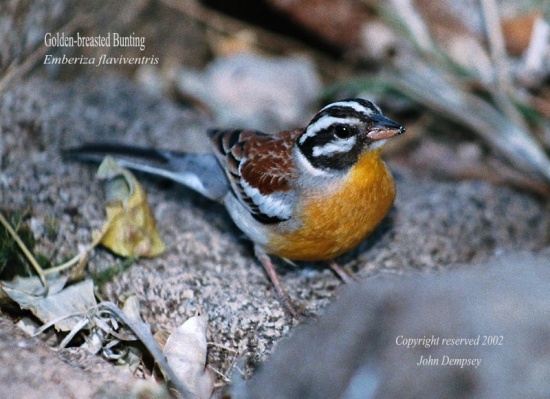 Identification
15-16cm
Male
White crown
Black lateral crown stripes
White supercilium
Black-bordered white ear coverts
Orange-yellow underparts
Yellow throat
Whitish lower belly
Chestnut upperparts
Grey rump
Brown wings with two white wing bars

Sexes are very similar, but females - buff tone to head, browner head stripes, and the back may have dark streaks.
Young birds are duller and paler than the females.
Distribution
Africa, south of the Sahara; absent from the equatorial forest belt.
Western Africa: Mauritania, Senegambia, Senegal, Mali, Liberia, Burkina Faso, Benin, Nigeria, Niger, Chad, Cameroon, Central African Republic, Equatorial Guinea, Gabon, DRC and Angola
Eastern Africa: Sudan, South Sudan, Eritrea, Ethiopia, Kenya, Uganda, Rwanda, Burundi, Tanzania, Zambia, Mozambique and Malawi
Southern Africa: Namibia, Botswana, Zimbabwe, South Africa, KwaZulu-Natal, Lesotho and Swaziland
Taxonomy
Subspecies
There are four subspecies[1]:
E. f. flavigaster: paler, redder back, pale grey rump, paler yellow underparts and whiter flanks
E. f. princeps: similar to nominate, but larger, and paler below
Habitat
Dry open woodlands.
Behaviour
Primarily a highland species found either in pairs or singly. They are mainly seen foraging on the ground (although males can sometimes be seen singing from the tops of trees).
Breeding
They build a cup nest lined with fine grass or hair low in a shrub. The 2-3 glossy, black-lined, white or cream eggs are incubated for 12-13 days; the young fledge in another 16-17 days.
Diet
A ground feeder, the diet includes seeds, insects and spiders and sometimes larger creatures when the birds have young to feed.
References
Clements, J. F., T. S. Schulenberg, M. J. Iliff, D. Roberson, T. A. Fredericks, B. L. Sullivan, and C. L. Wood. 2017. The eBird/Clements checklist of birds of the world: v2017, with updates to August 2017. Downloaded from http://www.birds.cornell.edu/clementschecklist/download/
Avibase
birdwatching.com.na
Recommended Citation
External Links