Alternative name: Golden-breasted Woodpecker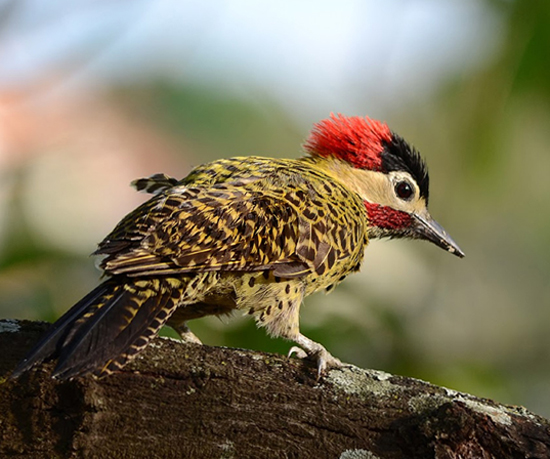 Colaptes melanochloros
Identification
27–30 cm (10½-11¾ in)
The male has a red malar while the female has a black malar.
Both sexes are pale green with white on the sides of the head and red on the crown and nape while the forecrown is black. The upperparts are barred black while the underparts have black, heart-shaped spots.
Distribution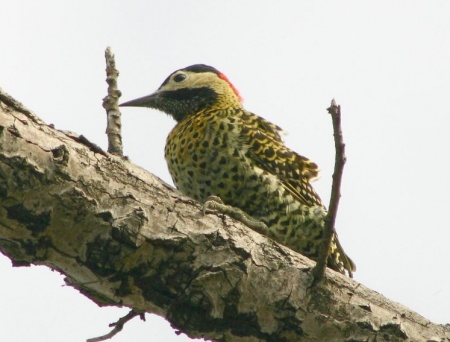 South America: this species has 5 subspecies which together occupy parts of Brazil, Bolivia, Paraguay, Uruguay, and Argentina.
Taxonomy
Subspecies
There are 5 subspecies[1]:
North-eastern Brazil to Bolivia (Santa Cruz)
C. m. melanolaimus Golden-breasted Woodpecker:
Arid upland valleys of central and southern Bolivia
Southern Bolivia to western Paraguay, northern Argentina and western Uruguay
North-western and west-central Argentina (south to Neuquén and west Río Negro)
Habitat
A variety of habitats from forest to caatinga and desert scrub.
Behaviour
Diet
Their diet consists almost entirely of ants.
References
Clements, J. F., T. S. Schulenberg, M. J. Iliff, S. M. Billerman, T. A. Fredericks, B. L. Sullivan, and C. L. Wood. 2019. The eBird/Clements Checklist of Birds of the World: v2019. Downloaded from http://www.birds.cornell.edu/clementschecklist/download/
Avibase
Arthur Grosset
BF Member observations
Handbook of the Birds of the World Alive (retrieved December 2014)
Recommended Citation
External Links