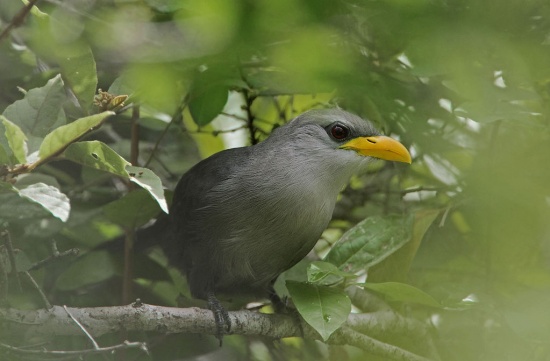 Alternative names: Whistling Yellowbill; South African Yellowbill
Ceuthmochares australis
Identification
Grey belly, head and throat
Heavy yellow bill
Green tail, wings and back
Distribution
From Ethiopia to western Kenya, Tanzania, Mozambique and eastern South Africa.
Taxonomy
This is a monotypic species.
Formerly considered conspecific with Blue Malkoha under the name Yellowbill.
Habitat
Dense forest to riverine forest and forest edges.
Behaviour
Diet
The diet includes caterpillars, beetles, grasshoppers and crickets, frogs, slugs. Also fruit, seeds and leaves.
Breeding
This cuckoo species does not parasitize other nests, both adults caring for their own young.
They build a rough nest of sticks suspended around 2-5 m above the ground. The clutch consists of 2 whitish-creamy eggs.
References
Clements, J. F., T. S. Schulenberg, M. J. Iliff, D. Roberson, T. A. Fredericks, B. L. Sullivan, and C. L. Wood. 2016. The eBird/Clements checklist of birds of the world: v2016, with updates to August 2016. Downloaded from http://www.birds.cornell.edu/clementschecklist/download/
Avibase
Wikipedia
Recommended Citation
External Links