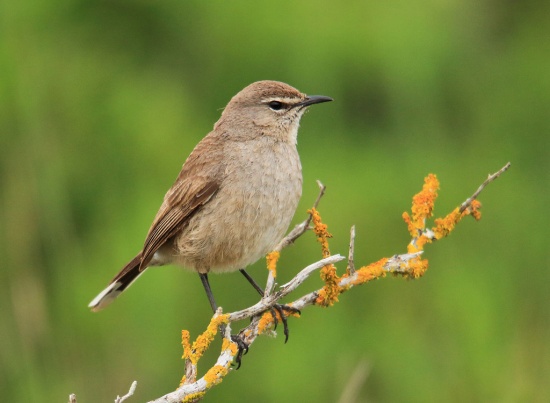 Cercotrichas coryphoeus
Erythropygia coryphoeus
Identification
15–17 cm (6-6¾ in), mass 18-23 g.
A dark greyish-brown scrub-robin with a white-tipped black tail. Striking facial pattern; white partial eyering, eyebrow, moustachial stripe and throat contrast with black-edged brown crown, black eyestripe and grey malar stripe.
Distribution
Southern, western and central parts of South Africa and southern Namibia.
Taxonomy
Subspecies
There are 2 subspecies[1]: Cercotrichas coryphoeus has two subspecies:[1]
Southwestern South Africa (Northern Cape south of the Orange Rive south to southwestern Western Cape)
Habitat
Dry scrub with patches of bare ground.
Behaviour
Diet
Forages on the ground for invertebrates, mainly ants, termites and beetles. Also eats small fruit.
Breeding
Monogamous and territorial; cooperative breeder. The nest is an open cup of twigs, lined with fine plant material and animal fur. Two to four eggs are laid July to December and incubated for about 14 days by the female. Rarely parasitised by Dideric Cuckoo.
References
Hockey, PAR, WRJ Dean, and PG Ryan, eds. 2005. Roberts' Birds of Southern Africa. 7th ed. Cape Town: John Voelcker Bird Book Fund. ISBN 978-0620340533
Clements, J. F., T. S. Schulenberg, M. J. Iliff, D. Roberson, T. A. Fredericks, B. L. Sullivan, and C. L. Wood. 2016. The eBird/Clements checklist of birds of the world: v2016, with updates to August 2016. Downloaded from http://www.birds.cornell.edu/clementschecklist/download/
Handbook of the Birds of the World Alive (retrieved October 2016)
Recommended Citation
External Links