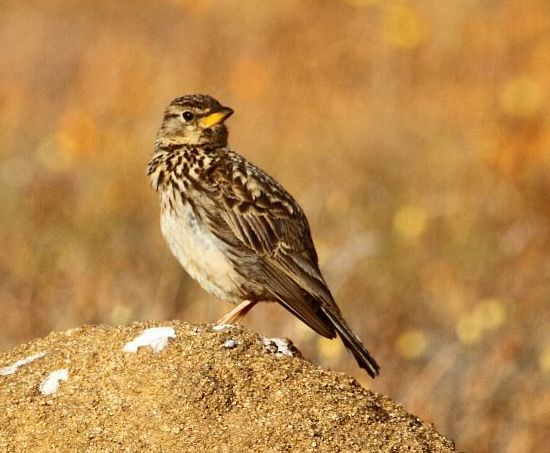 Galerida magnirostris
Identification
18 cm in length. Short tail, thick bill with a yellow base to the lower mandible. Streaked brown-grey upperparts, and a long white supercilium. Cream underparts with heavy dark streaking on the breast. The heavy bicoloured bill distinguished this species from all other African larks.
The call of this very vocal species is is a soft creaking treeeeleeeeleee or tree-tiddley-pee.
Distribution
South Africa south of 27° S and west of 30° E, Lesotho and southernmost Namibia.
Taxonomy
The only species of this genus in southern Africa. Five other Galerida species are found in Eurasia and the rest of Africa.
Three subspecies are recognised, mainly on size. G. m. magnirostris from the coastal plain of South Africa's west coast and south-western South Africa, has a larger bill and shorter wing than the other subspecies. G. m. harei from the grasslands east of 24° E has a short and slender bill. G. m. sedentaria is found east of the nominate race in semi-arid karoo shrublands. It has more rufous upper parts than the other subspecies and longer wings and tail than the nominate race.
Habitat
Grassland and shrubland. It is also found in cultivated and fallow agricultural land.
Behaviour
Like other larks, it nests on the ground. The male sings in display flight, from an elevated perch, or from the ground. Food is seeds and insects, the latter especially in the breeding season.
References
Hockey PAR, Dean WRJ & Ryan PG (eds) 2005. Robert's Birds of Southern Africa, 7th edition. John Voelcker Bird Book Fund, Cape Town, South Africa. ISBN 0620340533
External Links