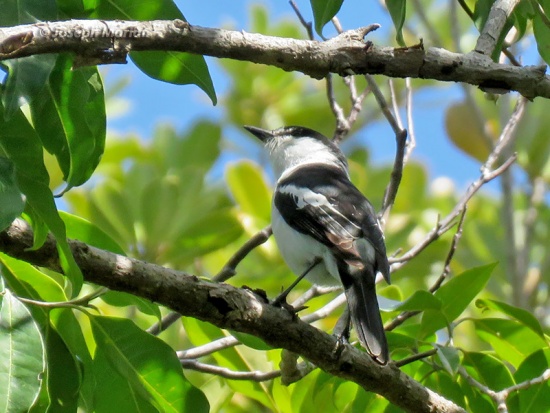 Lalage leucopyga
Identification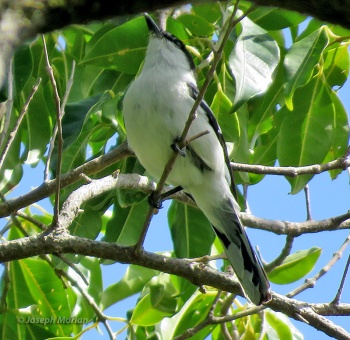 17 cm (6¾ in)

Male has glossy brown-black upperparts
Large white wing-covert patch
Grey-white rump
Fine white fringes on tertials and outer tail
Sometimes a small white line across lores.
Plain white, sometimes pale buff, underparts.
Female has browner upperparts and buffier white patches.
Juvenile is browner and buffier, with pale tips to upperparts, some dark mottling on breast and pale bill-base.
Similar Species
Differs from Polynesian Triller on Vanuatu between Santo and Efate by small or no supercilium, longer tail and more elongate shape, unmarked underparts, plain black crown and all-black bill. From Buff-bellied Monarch on Vanuatu by habits and plain white underparts. From White-collared Monarch on Makira by habits, white throat and face and black nape.
Distribution
Endemic to Makira, Vanuatu and New Caledonia. Extinct on Norfolk Island. There have been no records of the local subspecies since 1942. The subspecies almost certainly became extinct as result of predation by the Black Rat and destruction of native forest.
Taxonomy
Subspecies
Six subspecies recognized (one extinct)[1]
L. l. affinis: Solomon Islands (Makira and Ugi) - has no white on supercilium and pure white rump.
L. l. deficiens: Vanuatu (Torres I. and Banks Group) - has greyish rump, more white on tail and less white on wing-coverts.
L. l. albiloris: C and n Vanuatu - has fine white supercilium to above eye, more white on tail and greyish rump.
L. l. simillima: S Vanuatu and Loyalty Islands - buff wash on male breast and most of female underparts, small or broken supercilium, and whiter rump.
L. l. montrosieri: New Caledonia - has faint buff across all underparts, more white on wing-coverts, and grey-white rump.
L. l. leucopyga: Norfolk I. Extinct
Habitat
Usually in forest edge or scrub, including secondary regrowth, gardens, villages and savanna, but also primary forest.
Behaviour
Actions
Singles or groups of up to five forage in canopy or lower down in open habitats.
Diet
They eat insects (both adults and larvae, including caterpillars) as well as small fruits.
Breeding
They build a shallow, cup-shaped nest of moss, lichen and root-fibres. Clutch is two pale green eggs with olive-brown speckles. Sometimes double brooded.
Vocalisation
Variable calls include a repeated whistle. Also a double noted tche-tchu with first note ascending and second descending in pitch. Sometimes gives a more slurred br-r-reet or tyoor-r-rt. Song is a series of about 6–10 ringing kwee notes.
Movements
Resident.
References
Clements, J. F., T. S. Schulenberg, M. J. Iliff, S. M. Billerman, T. A. Fredericks, B. L. Sullivan, and C. L. Wood. 2019. The eBird/Clements Checklist of Birds of the World: v2019. Downloaded from http://www.birds.cornell.edu/clementschecklist/download/
Department of the Environment (2019). Lalage leucopyga leucopyga in Species Profile and Threats Database, Department of the Environment, Canberra. Available from: http://www.environment.gov.au/sprat. Accessed Sun, 8 Dec 2019 12:30:33 +1100.
Dutson, G. (2011) Birds of Melanesia, Christopher Helm, London.
Taylor, B. (2019). Long-tailed Triller (Lalage leucopyga). In: del Hoyo, J., Elliott, A., Sargatal, J., Christie, D.A. & de Juana, E. (eds.). Handbook of the Birds of the World Alive. Lynx Edicions, Barcelona. (retrieved from https://www.hbw.com/node/57895 on 8 December 2019).
Recommended Citation
External Links