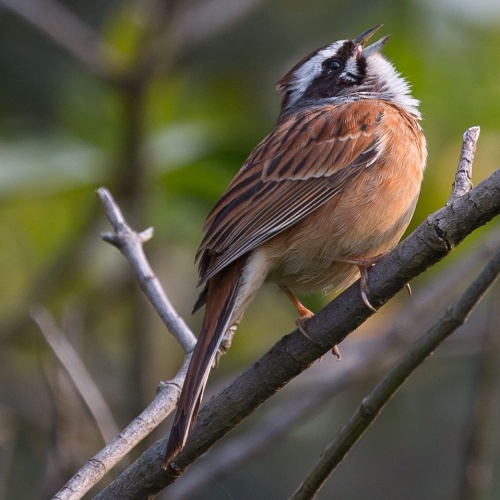 Emberiza cioides
Identification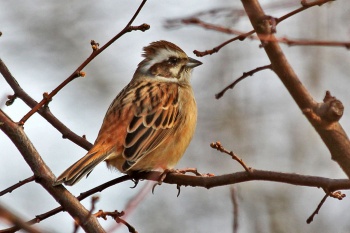 Also known as Siberian Meadow Bunting. 17 cm (6¾ in)
Chestnut crown
Broad white supercilium
White moustachial stripe and throat
Grey neck sides and throat
Reddish-brown upperparts with dark streaks
Rufous rump
White outer tail-feathers
Pinkish-brown legs

Females are similar but are duller and paler with a less well-defined head pattern.
Distribution
Siberia, northern and eastern China, eastern Kazakhstan, Kyrgyzstan, Mongolia, Korea and Japan.
Taxonomy
Subspecies
There are 5 subspecies[1]:
North West Altai Mountains to Transbaikalia and mountains of Mongolia
E Transbaikalia to Manchuria, northern Liaoning and northern Korea
South and central Korea and eastern China
South Kuril and Japanese islands; winters from Honshu southward
Habitat
They can be found in a variety of lightly wooded rolling hills and mountain foothills; woodland edges, rocky slopes. Riversides, rice paddies, reeds, weeds and thickets.
Behaviour
Diet
Their diet consists mostly of seeds from grass and weeds, with the addition of invertebrates (generally in the summer). They mostly feed on the ground.
Breeding
Monogamous. The nest is a cup constructed from rootlets and grass. It is built entirely by the female and placed on or near the ground in low bushes. The clutch contains 3-5 eggs which are incubated for 11 days. The young birds fledge after another 11 days.
Vocalisation
The song is a short, hurried phrase given from a prominent perch. The call is a series of up to four sharp notes.
Listen in an external program Listen to Meadow Bunting sound clip
Lone male
Recording © by Aladdin
Miyake Island, Miakejima, Japan, April 2019
References
Clements, J. F., T. S. Schulenberg, M. J. Iliff, D. Roberson, T. A. Fredericks, B. L. Sullivan, and C. L. Wood. 2018. The eBird/Clements checklist of birds of the world: v2018. Downloaded from http://www.birds.cornell.edu/clementschecklist/download/
Madge, S. (2019). Meadow Bunting (Emberiza cioides). In: del Hoyo, J., Elliott, A., Sargatal, J., Christie, D.A. & de Juana, E. (eds.). Handbook of the Birds of the World Alive. Lynx Edicions, Barcelona. (retrieved from https://www.hbw.com/node/61866 on 9 April 2019).
Birdforum Member observations.
Byers, C., J. Curson, and U. Olsson. (1995) Sparrows and Buntings: A Guide to the Sparrows and Buntings of North America and the World. Houghton Mifflin, Boston.
Recommended Citation
External Links