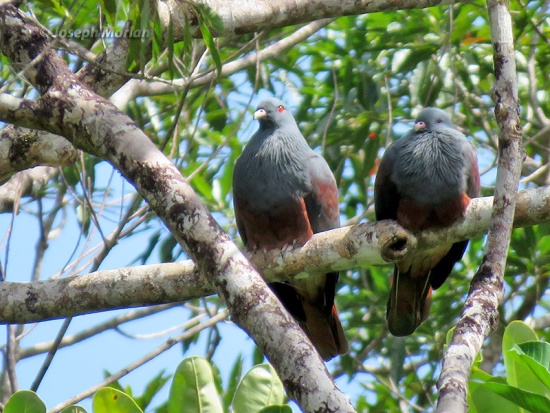 Alternative name: Goliath Imperial Pigeon
Ducula goliath
Identification
50-51 cm (19 ¾-20 in) A very large arboreal pigeon
General plumage dark slate-grey
Sooty grey upperparts
Streaky blue-gray head, neck and breast
Paler primary bases
Chestnut belly
Buffy undertail coverts.
Long tail with chestnut band.
Juvenile is duller and browner. Sexes alike although female slightly smaller.
Distribution
New Caledonia including Isle of Pines.
Taxonomy
This is a monotypic species[1].
Habitat
Primary montane and moist lowland forest.
Behaviour
Diet
This frugivorous species feeds on fruits and berries including the introduced chili pepper (Capsicum).
Breeding
Only known nest described made of twigs placed in a tree fork. It had one nestling.
Vocalisation
An owl-like, rhythmic series of low-pitched hoots.
References
Clements, J. F., T. S. Schulenberg, M. J. Iliff, S. M. Billerman, T. A. Fredericks, B. L. Sullivan, and C. L. Wood. 2019. The eBird/Clements Checklist of Birds of the World: v2019. Downloaded from http://www.birds.cornell.edu/clementschecklist/download/
Baptista, L.F., Trail, P.W., Horblit, H.M., Boesman, P. & Garcia, E.F.J. (2019). New Caledonian Imperial-pigeon (Ducula goliath). In: del Hoyo, J., Elliott, A., Sargatal, J., Christie, D.A. & de Juana, E. (eds.). Handbook of the Birds of the World Alive. Lynx Edicions, Barcelona. (retrieved from https://www.hbw.com/node/54389 on 5 December 2019).
Barre, N.; Wichatitsky, M. de G.; Lecoq, R.; Maillard, J.-C. 2003. Contribution to the knowledge of the New Caledonian imperial pigeon Ducula goliath (Gray, 1859), with emphasis on sexual dimorphism. Notornis 50(3): 155-160
BirdLife International 2016. Ducula goliath. The IUCN Red List of Threatened Species 2016: e.T22691754A93323858. http://dx.doi.org/10.2305/IUCN.UK.2016-3.RLTS.T22691754A93323858.en. Downloaded on 05 December 2019.
Dutson, G. (2011) Birds of Melanesia, Christopher Helm, London.
Recommended Citation
External Links