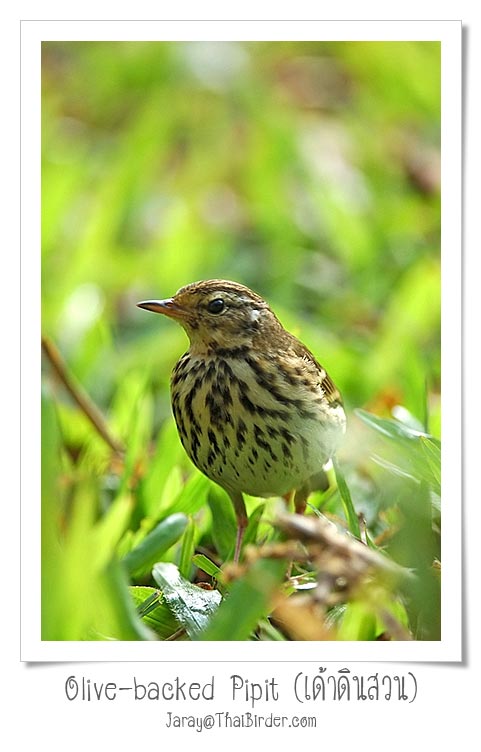 Anthus hodgsoni
Identification
15cm
Upperparts greenish brown streaked with darker brown
Bold white supercilium
White double wingbar and outer rectrices
Underparts white to buff streaked with dark brown on breast and flanks

Sexes similar.
Distribution
Widespread throughout Asia and the northeast of Russia.
Taxonomy
Subspecies
There are 2 subspecies[1]:
A. h. hodgsoni (berezowskii):
A third subspecies, berezowskii is not recognised by all authorities[2]
Habitat
Open woodland and orchards, gardens, grasslands, wetlands and town parks.
Behaviour
Diet
Diet includes insects, grass and weed seeds.
Breeding
It builds a cupshaped nest of moss and grass placed on the ground under a tuft of grass or boulder. The 3-5 eggs are dark brown, spotted darker. Usually two broods are raised.
References
Clements, J. F., T. S. Schulenberg, M. J. Iliff, B.L. Sullivan, C. L. Wood, and D. Roberson. 2013. The eBird/Clements checklist of birds of the world: Version 6.8., with updates to August 2013. Downloaded from http://www.birds.cornell.edu/clementschecklist/download/
Avibase
Wikipedia
BF Member observations
Recommended Citation
External Links