Estrilda melpoda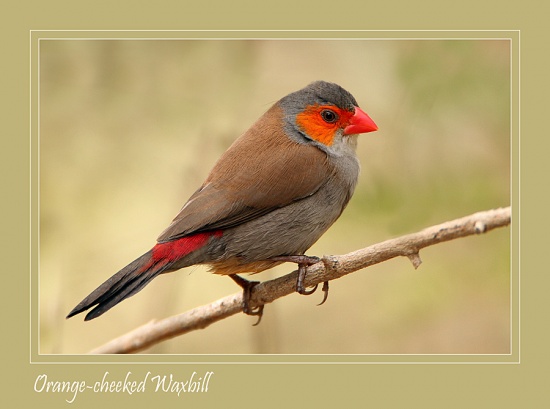 Identification
Red beak, orange "cheeks" which extend over the eyes, dark blue-grey on top of head, light grey under chin, light brown-grey chest, cream lower belly, dark brown back and wings, crimson tail coverts, black tail, yellow streak across the vent area (creamy yellow in hens, deep yellow-orange in cocks). Juveniles look like the adults but with subdued markings.
Distribution
Gambia, Democratic Republic of Congo, Angola, and Zambia. Introduced populations are found in California and Australia.
Taxonomy
Estrilda melpoda has two subspecies:1
E. m. melpoda
E. m. tschadensis
Habitat
Dry savanna and subtropical/tropical (lowland) wet shrubland habitats.
Behaviour
Timid, nervous, energetic, may be a little aggressive while breeding. The song is a light jingling of notes and may vary among individuals.
References
Clements JF. 2007. The Clements Checklist of Birds of the World. 6th ed., with updates to October 2007. Cornell University Press. ISBN 9780801445019
External Links