Gampsonyx swainsonii
Identification
Yellow forehead and cheeks, grey-black crown, wings and tail, white underparts, yellow legs and feet, red-chestnut eyes, black bill.
Distribution
Nicaragua and Panama to Paraguay, Argentina, and Brazil, Trinidad, and the Guianas.
Taxonomy
Three subspecies recognised:
leonae in Central America and northern South America,
swainsonii in Brazil and northern Argentina
Habitat
Sparsely wooded savannas.
Behaviour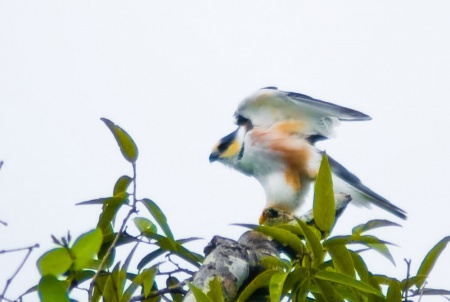 A deep cup of sticks built high in a tree and 2-4 brown-marked white eggs are laid; incubated mainly by the female for 34-35 days to hatching, with a further 5 weeks to fledging. There may be two broods in a season.
Diet includes lizards, small birds and insects.
References
Clements, JF. 2009. The Clements Checklist of Birds of the World. 6th ed., with updates to December 2009. Ithaca: Cornell Univ. Press. ISBN 978-0801445019.
Recommended Citation
External Links