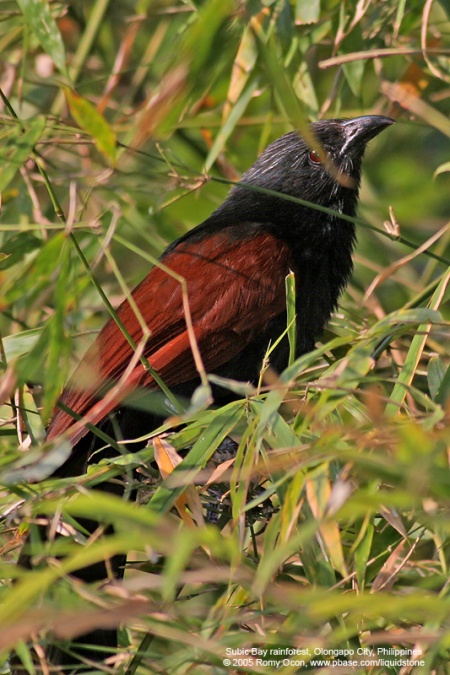 Alternative name: Green Coucal
Centropus viridis
Identification
41 - 43cm.
Black underparts and upperparts, glossed blue to green
Chestnut wings
Grey bare skin around eye
Red eye
Grey to black bill
white morph occurs on Luzon, with dull yellowish bill
major and mindoroensis are larger, carpenteri melanistic with blackish wings
Sexes similar, females are larger. Juveniles are black or blackish above, streaked buff, chestnut wings barred blackish, long unbarred bronze-green tail, tip sometimes barred.
Distribution
Endemic to the Philippines.
Common in its range.
Taxonomy
Four subspecies recognized:
C. v. major on Babuyanes Islands
C. v. viridis on Luzon, Mindanao, Masbate, Bohol, Negros, Cebu, Leyte, Samar and Catanduanes
C. v. mindoroensis on Mindoro and Semirara Is
C. v. carpenteri on Batan group
Habitat
Grassland, mixed cultivation, disturbed second growth. Occurs from lowlands up to 2000m.
Replaces Black-hooded Coucal where primary forest has been destroyed.
Behaviour
Not easy to see except when perched in open on top of grass or small tree.
Diet
Feeds on insects. Forages usually near or on the ground.
Breeding
Breeding observed from April to July. The nest is a bulky globe made of grass and with a side entrance. It's placed 1 to 1.5m above the ground. Lays 3 eggs.
Movements
This is a resident species.
References
Clements, J. F., T. S. Schulenberg, M. J. Iliff, B.L. Sullivan, C. L. Wood, and D. Roberson. 2013. The eBird/Clements checklist of birds of the world: Version 6.8., with updates to August 2013. Downloaded from http://www.birds.cornell.edu/clementschecklist/download/
Del Hoyo, J, A Elliot, and J Sargatal, eds. 1997. Handbook of the Birds of the World. Volume 4: Sandgrouse to Cuckoos. Barcelona: Lynx Edicions. ISBN 978-8487334221
Recommended Citation
External Links