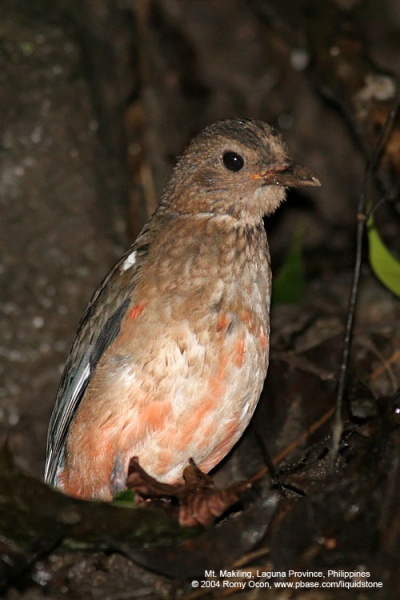 Erythropitta erythrogaster
Includes: Sulu Pitta; Talaud Pitta
Identification
16 - 18cm.
Nominate subspecies:
Red-brown head with dark brown lores and supercilium and cinnamon cheeks
Blue upper mantle
Dark green lower mantle and back
Blue rump and tail
Deep blue upperwing-coverts, black flight-feathers, variable small white spots on primaries
Black lower throat and upper breast (sometimes with white throatband)
Broad glossy blue band across breast (variably becoming green at sides)
Scarlet rest of underparts
Black bill
inspeculata with a dark chestnut-brown head, all blue upperparts and a smaller all blue breastband
Females are duller and more green and less blue on breast. Juveniles are dull brown above and have a dull blue rump and tail. They are paler below, have a whitish throat and a dark brown breast with white spots.
Distribution
Found on the Philippines and the Talaud Islands (Indonesia)
Locally common in parts of its range.
Taxonomy
Four subspecies recognized:
E. e. erythrogaster on the Philippines (except Palawan)
E. e. propinqua on Palawan and Balbac
E. e. yairocho on Sulu Island
E. e. inspeculata on Talaud Islands (Indonesia)
Formerly included in Red-bellied Pitta. Clements first divided Philippine Pitta in three species: Blue-breasted Pitta (erythrogaster and propinqua), Sulu Pitta (yairocho) and Talaud Pitta (inspeculata) but has relumped them into this species (calling the enlarged species Blue-breasted Pitta).
Habitat
Found in a variety of habitats: Dense primary rainforest, logged or heavily degraded forest, scrub, plantations, remnant forest patches with cultivation, bamboo groves and thickets near rivers. Usually in lowlands below 1200m but recorded up to 1400m on Negros.
Behaviour
Diet
Feeds on insects and their larvae, earthworms and some plant material.
Forages mainly on the ground.

Breeding
Breeding season November to September. The domed nest is made of twigs and leaves, grass and ferns. It's mostly placed on the ground or low in scrub or a tree. Some nests were placed 10m above the ground. Lays 2 eggs.

Movements
A sedentary species with some short local movements recorded.
References
Clements, J. F., T. S. Schulenberg, M. J. Iliff, D. Roberson, T. A. Fredericks, B. L. Sullivan, and C. L. Wood. 2016. The eBird/Clements checklist of birds of the world: v2016, with updates to August 2016. Downloaded from http://www.birds.cornell.edu/clementschecklist/download/
Dickinson, EC, ed. 2003. The Howard and Moore Complete Checklist of the Birds of the World. 3rd ed., with updates to October 2008 (Corrigenda 8). Princeton: Princeton Univ. Press. ISBN 978-0691117010
Gill, F and D Donsker (Eds). 2016. IOC World Bird Names (version 6.3). Available at http://www.worldbirdnames.org/.
Del Hoyo, J, A Elliot, and D Christie, eds. 2003. Handbook of the Birds of the World. Volume 8: Broadbills to Tapaculos. Barcelona: Lynx Edicions. ISBN 978-8487334504
Recommended Citation
External Links