Alternative name: Neddicky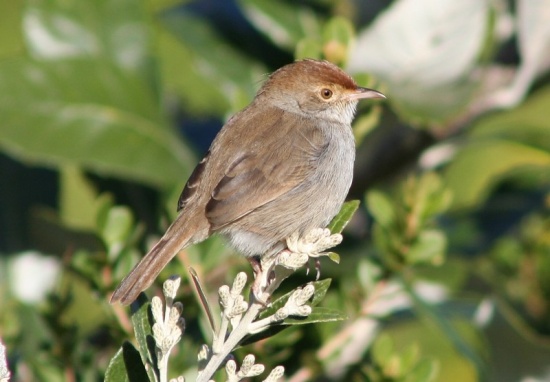 Cisticola fulvicapilla
Identification
Length 11 cm
Red cap and plain greyish back. Underparts are buff (northern South Africa and northwards) or grey (southern South Africa). Short brown bill, feet and legs pinkish-brown. Light brown eye.
The sexes are similar, but juvenile birds are yellower.
Distribution
Sub-Saharan Africa
Western Africa: Gabon, Democratic Republic of Congo and Angola
Eastern Africa: Kenya, Tanzania, Zambia, Mozambique and Malawi
Southern Africa: Namibia, Botswana, Zimbabwe, South Africa, KwaZulu-Natal, Lesotho and Swaziland
Taxonomy
Subspecies
Cisticola fulvicapilla has nine subspecies[1]:
C. f. dispar: Western Zaire to south-eastern Gabon, central plateau of Angola and north-western Zambia
C. f. hallae: Southern Angola to south-western Zambia, north-western Zimbabwe, northern Botswana, northern Namibia
C. f. muelleri: North-western Zambia to eastern Tanzania, Mozambique and north-eastern Zimbabwe
C. f. lebombo: Mozambique to Transvaal, northern Zululand, Swaziland and western Natal
C. f. ruficapilla: Highlands of Transvaal to western Orange Free State and north-eastern Cape Province
C. f. fulvicapilla: Interior eastern Cape Provincial to Drakensberg escarpment and western Lesotho
C. f. dumicola: Western Zululand to Natal, coastal Transkei and eastern Cape Province
C. f. silberbaueri: South Africa (winter rainfall area of south-western Cape Province)
Habitat
Mixed woodland and shrubby grassland, scrub and brushwood.
Behaviour
Breeding
Nest is ball shaped with a side entrance, made from grass and cobwebs. Breeding is September to March.
Diet
Diet includes small insects.
References
Clements, JF. 2009. The Clements Checklist of Birds of the World. 6th ed., with updates to December 2009. Ithaca: Cornell Univ. Press. ISBN 978-0801445019.
Avibase
Wikipedia
Recommended Citation
External Links