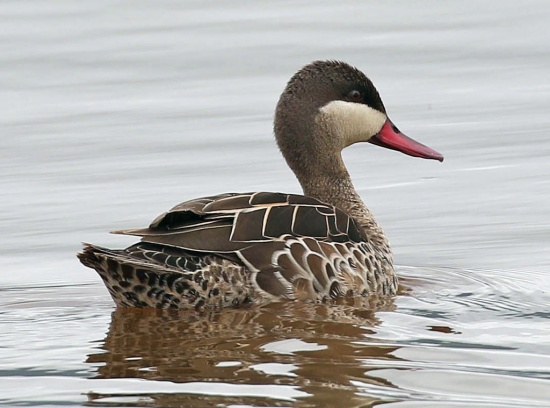 Alternative name: Red-billed Teal
Anas erythrorhyncha
Identification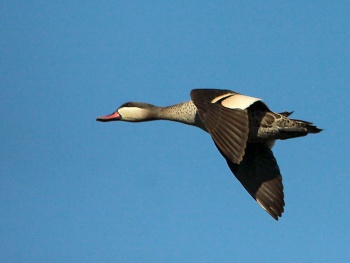 43–48 cm (17-19 in)
Black crown and nape
Whitish face
Bright red bill
Dark brown overall plumage with white-edged feathers
Buff secondaries with a black stripe
Sexes are similar
Juveniles are duller than adults
Distribution
Western Africa: Mali, Democratic Republic of Congo, Angola
Eastern Africa: Sudan, South Sudan, Ethiopia, Somalia, Kenya, Uganda, Rwanda, Burundi, Tanzania, Zambia, Mozambique, Malawi
Southern Africa: Namibia, Botswana, Zimbabwe, South Africa, KwaZulu-Natal, Lesotho, Swaziland
African Islands: Madagascar
Taxonomy
This is a monotypic species[1]..
Habitat
The can be found in a variety of wetland habitats, though appear to prefer shallow, still, freshwater with floating vegetation.
Behaviour
Diet
A dabbling duck, they look for seeds, fruit, grain, roots and aquatic plants and grass. They also eat aquatic invertebrates. They will forage on dry land in the evening or at night.
Breeding
Nests are built on the ground in dense vegetation near water.
Vocalisation
The male has a whzzt call
The female a soft quack.
References
Clements, J. F., T. S. Schulenberg, M. J. Iliff, D. Roberson, T. A. Fredericks, B. L. Sullivan, and C. L. Wood. 2017. The eBird/Clements checklist of birds of the world: v2017, with updates to August 2017. Downloaded from http://www.birds.cornell.edu/clementschecklist/download/
Avibase
Handbook of the Birds of the World Alive (retrieved July 2018)
Recommended Citation
External Links