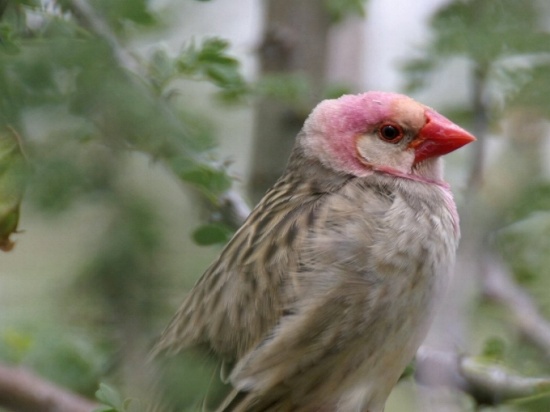 Quelea quelea
Identification
12 cm (5 in)
Breeding male
Variable plumage colours
Facial mask ranges from black to white
Breast and crown varies from yellow to bright red
Red bill

Breeding female
Yellow bill
Beige overall plumage
Non-breeding male similar to female. Non-breeding female has a red bill
Distribution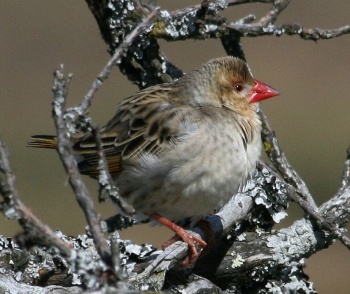 Sub-Saharan Africa
Western Africa: Mauritania, Senegal, The Gambia, Guinea-Bissau, Guinea, Mali, Sierra Leone, Liberia, Ivory Coast, Burkina Faso, Ghana, Togo, Benin, Nigeria, Niger, Chad, Cameroon, Central African Republic, Equatorial Guinea, Gabon, Congo, Democratic Republic of Congo, Angola, Zaire
Eastern Africa: Sudan, South Sudan, Eritrea, Ethiopia, Somalia, Kenya, Uganda, Rwanda, Burundi, Tanzania, Zambia, Mozambique, Malawi
Southern Africa: Namibia, Botswana, Zimbabwe, South Africa, KwaZulu-Natal, Lesotho, Swaziland
Taxonomy
Subspecies
There are 3 subspecies[1]:
Subspecies spoliator is not recognised by all authorities[2]
Habitat
Bush, grassland, cultivation and savanna.
Behaviour
The Quelea is one of the greatest avian agricultural pests in the Afrotropical region. It is a highly gregarious species with a nomadic lifestyle. It travels in huge flocks which can contain hundreds of thousands (indeed sometimes millions) of individuals. They can devastate a cereal crop in a matter of minutes. Being in an area where they are massing in numbers is a remarkable experience. At first light the flocks leave their roost to go for water and from a distance it looks as though a grass fire has started. The Queleas form into dense, highly synchronised flocks which look like clouds of smoke, and then, as the flock approaches you, the numbers are so vast their wing-beats sound like a high wind. A single flock of birds can take 10 or 15 minutes to pass overhead.
Breeding
Colonial breeders. The male begins to weave the nest from grass and straw. After mating, both male and female complete the nest. The female lays 2-4 light blue eggs, which are incubated for twelve days. After the chicks hatch, they are fed caterpillars and protein-rich insects. After this time parents change to mainly feeding seeds. The young birds fledge and leave after two weeks in the nest.
Diet
Their diet is mainly grass seeds and grain. They also eat some insects.
Movements
Some populations are resident, while others are nomadic, travelling in huge flocks.
References
Clements, J. F., T. S. Schulenberg, M. J. Iliff, D. Roberson, T. A. Fredericks, B. L. Sullivan, and C. L. Wood. 2016. The eBird/Clements checklist of birds of the world: v2016, with updates to August 2016. Downloaded from http://www.birds.cornell.edu/clementschecklist/download/
Avibase
Handbook of the Birds of the World Alive (retrieved June 2016)
BF Member observations
Hartley's Safaris
Recommended Citation
External Links