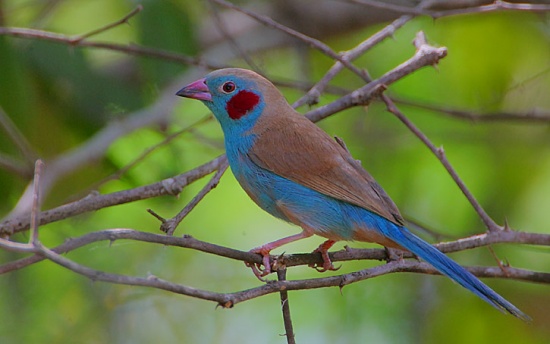 Uraeginthus bengalus
Identification
12–13 cm
Male
Brown upperparts
Yellow belly
Pale blue breast, flanks and tail
Red patch

'Females are similar but duller, and lack the cheek spot.
Immatures: similar to the female, but with blue restricted to the face and throat.
Distribution
Sub Saharan Africa:
Western Africa: Mauritania, Senegambia, Senegal, The Gambia, Guinea-Bissau, Guinea, Mali, Liberia, Ivory Coast, Burkina Faso, Ghana, Togo, Nigeria, Niger, Niger, Chad, Cameroon, Central African Republic, Democratic Republic of Congo and Angola
Eastern Africa: Sudan, South Sudan, Eritrea, Ethiopia, Somalia, Kenya, Uganda, Rwanda, Tanzania, Zambia and Mozambique
Southern Africa: occurs only in Zimbabwe

The species has been introduced to Hawaii, the Lesser Antilles, the Windward Islands, and the Azores.
Taxonomy
Subspecies
There are four subspecies:[1]
Habitat
Open grassy areas, woods, fields, gardens and near habitation.
Behaviour
Diet
Ground feeders; their diet includes small grass seeds and grain.
Breeding
They build a dome shaped nest of grass, with a side entrance, in trees. The clutch consists of 4-5 white eggs.
Vocalisation
Call: a thin tsee-tsee.
Song: a wit-sit-diddley-diddley-ee-ee.
References
Clements, J. F., T. S. Schulenberg, M. J. Iliff, D. Roberson, T. A. Fredericks, B. L. Sullivan, and C. L. Wood. 2017. The eBird/Clements checklist of birds of the world: v2017, with updates to August 2017. Downloaded from http://www.birds.cornell.edu/clementschecklist/download/
Avibase
Handbook of the Birds of the World Alive (retrieved November 2014)
Wikipedia
Recommended Citation
External Links