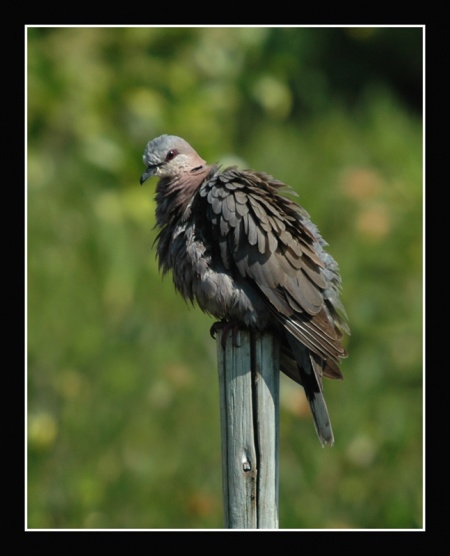 Streptopelia semitorquata
Identification
30 cm (11¾ in); the largest of the ring-necked doves
Light greyish-brown back, wings and tail
Black flight feathers
Pale grey forehead, darker on crown
Dark pink to red breast and underparts
Black half-collar
Orbital skin and lege purplish-red
Sexes similar; juveniles are duller than adults, and have scalloping on the body feathers.
Distribution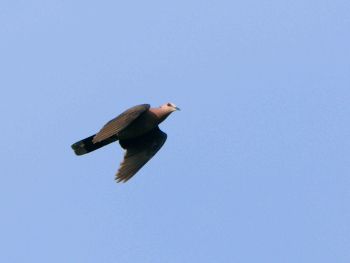 South of the Sahara, Africa. Also found in southwest Arabia.
Taxonomy
This is a monotypic species[1].
Habitat
Dense woodlands, acacia thickets, close to water. Riparian woodland, gallery forests, mangroves and forest edges. Also farms, parks and gardens in cities.
Behaviour
Diet
Their main diet consists of a variety of seeds, berries and rhizomes. They have been recorded as eating nectar from Mountain Aloe; also some insects such as termites. They generally eat on the ground but have been observed eating berries in the branches.
Breeding
They construct a platform nest from sticks up to 18m above ground. Their clutch averages two eggs.
Vocalisation
Call: subdued coo.. coo
References
Clements, J. F., T. S. Schulenberg, M. J. Iliff, S. M. Billerman, T. A. Fredericks, B. L. Sullivan, and C. L. Wood. 2019. The eBird/Clements Checklist of Birds of the World: v2019. Downloaded from http://www.birds.cornell.edu/clementschecklist/download/
Baptista, L. F., P. W. Trail, H. M. Horblit, P. F. D. Boesman, and E. F. J. Garcia (2020). Red-eyed Dove (Streptopelia semitorquata), version 1.0. In Birds of the World (J. del Hoyo, A. Elliott, J. Sargatal, D. A. Christie, and E. de Juana, Editors). Cornell Lab of Ornithology, Ithaca, NY, USA. https://doi.org/10.2173/bow.reedov1.01
Recommended Citation
External Links