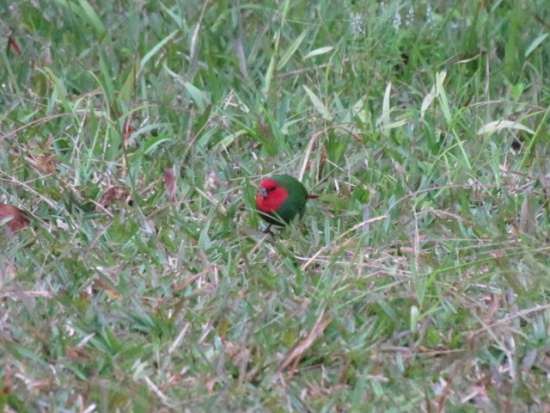 Erythrura psittacea
Identification
Bright, solid green, bright red head, throat, rump and tail. Black beak, brown-horn legs. The juvenile is a more drab green with orange-carmine on its rump and tail and a hint of red on its head and throat. The juvenile's bill is at first amber yellow with a dark tip.
Distribution
Taxonomy
Monotypic.
Habitat
Lowland moist forest and shrubland.
Behaviour
Both sexes build the nest in hollow logs, trees, shrubs, or under overhanging clumps of grass, and long grass stalks, long leaves, and coconut fibre are used. Feathers are often used to line the inside of the egg chamber. 4-6 eggs are laid and incubated by both parents for 13-14 days. The young fledge after a further 7 days.
External Links