Vanellus duvaucelii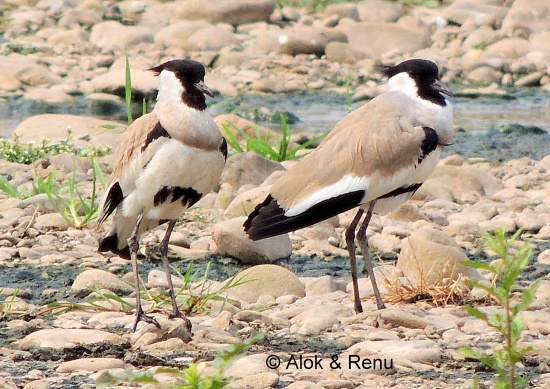 Identification
29·5–31·5 cm (11½-12.5 in)
Brown upperparts
White rump
Black tail
Black crest, crown, face and central throat
Greyish-white neck sides and nape
Greyish-brown breast band
White underparts
Black belly patch
Black carpal spur ( seen better in the bird on right in the image here )
White under wings and upper wing secondaries
Brown upper wing coverts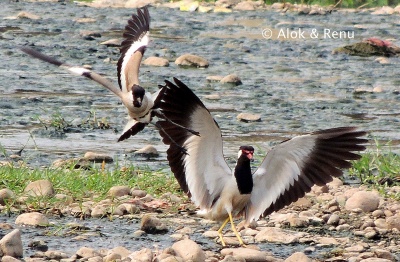 Distribution
Asia found on the rivers of India and Nepal to southwestern China and Indochina. And North Thailand with stragglers as far south as Bangkok
Taxonomy
This is a monotypic species[1].
Habitat
Generally found on or near rivers with shingle and sand banks, wet grassland and farmland; and larger water bodies, such as reservoirs.
Behaviour
Breeding
The nest is a shallow ground scrape. The clutch consists of 2 eggs.
Diet
Their diet consists of worms, crustaceans and molluscs. They may also include frogs and tadpoles.
Vocalisation
Recording by Alok Tewari
Calls given by a nesting pair on perception of threat due to presence of other birds.
River Baddi, Himalayan Foothills, Himachal Pradesh, India, 10 June 2013.
References
Clements, J. F., T. S. Schulenberg, M. J. Iliff, D. Roberson, T. A. Fredericks, B. L. Sullivan, and C. L. Wood. 2015. The eBird/Clements checklist of birds of the world: v2015, with updates to August 2015. Downloaded from http://www.birds.cornell.edu/clementschecklist/download/
Handbook of the Birds of the World Alive (retrieved June 2015)
Wikipedia
Recommended Citation
External Links