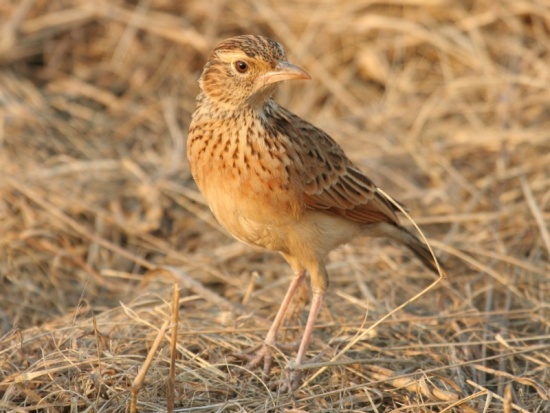 Mirafra africana
Identification
16–20 cm (6¼-8 in)
A large Lark that varies geographically, but rufous wings and a short crest are consistent features.
Distribution
Sub-Saharan Africa:
Western Africa: Guinea, Sierra Leone, Liberia, Ivory Coast, Nigeria, Niger, Chad, Cameroon, Equatorial Guinea, Gabon, Democratic Republic of Congo, Angola
Eastern Africa: Sudan, South Sudan, Somalia, Kenya, Uganda, Rwanda, Burundi, Tanzania, Zambia, Mozambique, Malawi
Southern Africa: Namibia, Botswana, Zimbabwe, South Africa, KwaZulu-Natal, Lesotho, Swaziland
Taxonomy
Subspecies
There is considerable geographic variation; 23 subspecies have been recognised1.
M. a. sharpii: North West Somalia (Silo Plain, Tuyo Plain and Bankisah)
M. a. kurrae: Sudan (Kurra and Darfur provinces)
M. a. bamendae: West Cameroon
M. a. stresemanni: North Cameroon (Ngaoundéré)
M. a. ruwenzoria: East Democratic Republic of the Congo to south-western Uganda
M. a. harterti: East Kenya (Ukamba)
M. a. occidentalis: West Angola (Huila escarpment north to Kisama)
M. a. gomesi: East Angola (Macondo) to north-western Zambia (Kabompo)
M. a. kabalii: North East Angola (Luiacana) and western Zambia (Balovale)
M. a. pallida: Namibia (Windhoek north to Kaokoveld and Ovamboland)
M. a. ghansiensis: Namibia and western Botswana
M. a. chapini: South Democratic Republic of the Congo and north-western Zambia
M. a. transvaalensis: South East Botswana to Zimbabwe, Tanzania, Malawi and South Africa
M. a. isolata: Malawi (Mangochi District)
M. a. grisescens: West Zambia to north-western Zimbabwe and northern Botswana
M. a. africana: South Natal to eastern Cape Province
M. a. tropicalis: South Uganda to western Kenya and northern Tanzania
M. a. nigrescens: North East Zambia (Lundazi) and southern Tanzania (Ukinga and Njombe)
M. a. nyikae: Nyika Plateau (easterb Zambia and Malawi)
M. a. malbranti: Central and southern Democratic Republic of the Congo (Djambala, Petianga and Kasai) to south-eastern Gabon
Sibley & Monroe2 recognised M. a. sharpii as a separate species (which they called Somali Lark, and others have called Sharpe's Lark).
Habitat
The Rufous-naped Lark is found in a wide range of savanna and grassland habitats.
Behaviour
Diet
Solitary or in pairs. Forages on the ground, mainly for invertebrates, but also for seeds.
Breeding
Monogamous and territorial. The nest is a cup of dry grass with a partial or complete dome, built on the ground, normally against a grass tuft. Two to three eggs are laid (July to April in southern Africa).
Vocalisation
Mainly a tree tree-leeoo whistle.
References
Clements, J. F., T. S. Schulenberg, M. J. Iliff, D. Roberson, T. A. Fredericks, B. L. Sullivan, and C. L. Wood. 2018. The eBird/Clements checklist of birds of the world: v2018. Downloaded from http://www.birds.cornell.edu/clementschecklist/download/
Sibley, CG and BL Monroe. 1996. Birds of the World, on diskette, Windows version 2.0. Charles G. Sibley, Santa Rosa, CA, USA.
Hockey PAR, Dean WRJ & Ryan PG (eds) 2005. Robert's Birds of Southern Africa, 7th edition. John Voelcker Bird Book Fund, Cape Town, South Africa. ISBN 0620340533
Sinclair I & Ryan P. 2003. Birds of Africa south of the Sahara. Princeton University Press. ISBN 0620207299
Birdforum thread discussing the taxonomy of Sharpe's Lark
Recommended Citation
External Links