Alternative name: Ceylon Bay Owl
Phodilus assimilis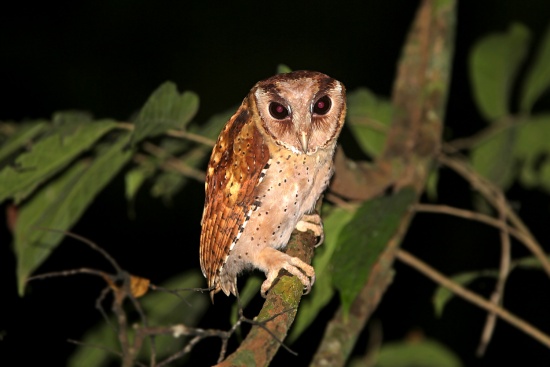 Identification
A chunky, short-winged and short-tailed Owl. Much darker and browner than Oriental Bay Owl. Heavy black and white spots on a vermiculated background. Heavy bars on wings and tail. Heart-shaped face. Golden collar and patches on scapulars, wing-coverts and tertials.
Sexes similar, juveniles undescribed.
Distribution
Found in Sri Lanka and southwest India (Kerala).
Taxonomy
Formerly considered a subspecies of Oriental Bay Owl. Two subspecies recognized:
Habitat
Evergreen forest, mixed forest, mangrove edge.
Behaviour
It nests in hollow trees and tree stumps, laying between 3-5 eggs.
Its diet includes small mammals, small birds, reptiles, frogs and insects.
It is completely nocturnal.
References
Clements, JF. 2011. The Clements Checklist of Birds of the World. 6th ed., with updates to August 2011. Ithaca: Cornell Univ. Press. ISBN 978-0801445019. Spreadsheet available at http://www.birds.cornell.edu/clementschecklist/downloadable-clements-checklist
Rasmussen, PC and JC Anderton. 2005. Birds of South Asia: The Ripley Guide. Barcelona: Lynx Edicions. ISBN 978-8487334672
Recommended Citation
External Links