This article is incomplete.
This article is missing one or more sections. You can help the BirdForum Opus by expanding it.
Charadrius sanctaehelenae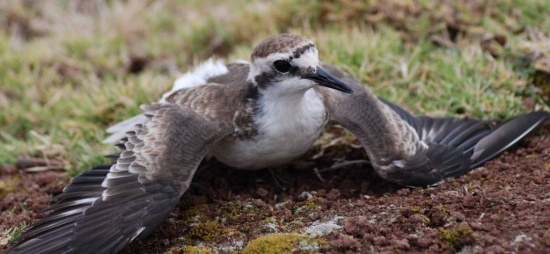 Alternate name: Wirebird
Identification
15 cm. Long-legged, long thin bill, black head markings, buffy underparts. Immature lacks head markings and is duller.
Distribution
St. Helena Island (Gulf of Guinea).
Taxonomy
A monotypic species.
Habitat
Short grassland; open forest clearings.
Behaviour
The diet includes a wide range of invertebrates.
2 eggs are laid.
Conservation Status
Classified as Critically Endangered in the 2008 IUCN Red List (BirdLife International, 2008). Populations have declined recently due to habitat loss (the result of changes in land use) and predation by introduced predators.
References
BirdLife International (2008) Species factsheet: Charadrius sanctaehelenae. Downloaded from http://www.birdlife.org on 19/6/2008.
External Links