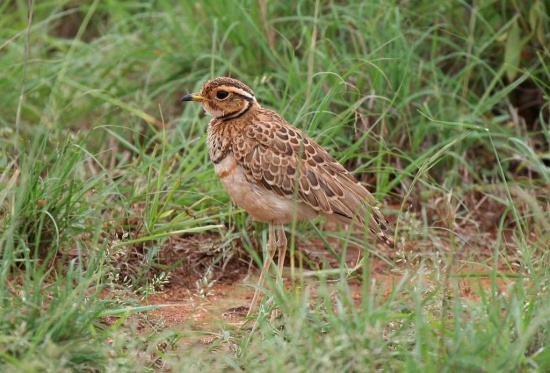 Alternative name: Heuglin's Courser
Rhinoptilus cinctus
Identification
Length 25-27 cm. Rufous, black and white bands on breast and neck. In flight, rump is white and upper wings uniform dark brown. Lerger than Double-banded Courser.
Distribution
Angola, Botswana, Ethiopia, Kenya, Namibia, Rwanda, Somalia, South Africa, Sudan, Tanzania, Uganda, Zambia, and Zimbabwe.
Taxonomy
Subspecies1
Habitat
Dry savanna.
Behaviour
Because of its primarily nocturnal habits, the Three-banded, or Heuglin's Courser is infrequently seen in daylight, and its finely mottled plumage makes it even harder to spot at rest. Like other Coursers, they emerge at dusk to feed on insects. In response to danger, they often freeze and lie flat or, if forced, fly a short distance and then run to cover.
References
Clements, James F. 2007. The Clements Checklist of Birds of the World. 6th ed., with updates to October 2008. Ithaca: Cornell University Press. ISBN 9780801445019
External Links