Charadrius tricollaris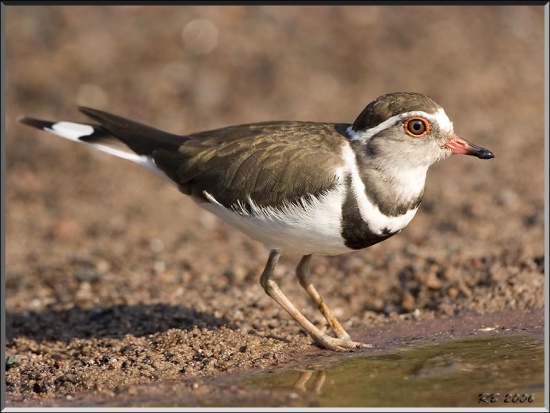 Identification
18cm. Medium brown upperparts, white underparts, two black breast bands, separated by a white band, black crown, white supercilia extending from the white forehead to meet on the back of the neck, grey face becoming brown on the neck. The eye ring and the base of the black bill are red.
Distribution
Sub-Saharan Africa and Madagascar.
Taxonomy
Subspecies1
C. t. tricollaris - Ethiopia to Tanzania, Gabon, Chad and South Africa
C. t. bifrontatus - Madagascar
Habitat
Inland rivers, streams, pools and lakes.
Behaviour
The diet includes insects, worms and other invertebrates.
Its nest is a bare scrape on shingle.
References
Clements, James F. 2007. The Clements Checklist of Birds of the World. 6th ed., with updates to October 2008. Ithaca: Cornell University Press. ISBN 9780801445019
Lepage D. 2008. Avibase. Search for "Three-banded Plover" downloaded 19 June 2008.
External Links