Pooecetes gramineus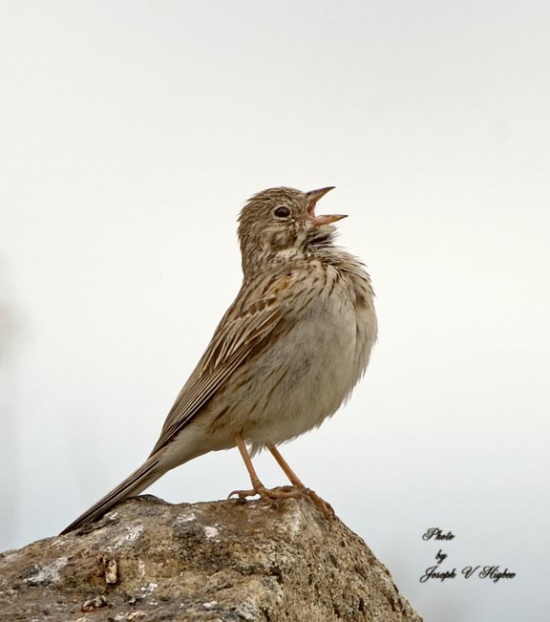 Identification
A fairly large (16cm body, 25cm wingspan) sparrow. Streaked back, upper breast, and sides, with cream-colored underparts. Shows an eye ring and most often a white malar stripe that continues under the auriculars before coming back up behind the auriculars, producing a J shape. Rufous lesser coverts are visible in flight but rarely on the standing bird; very good field mark if seen.
Similar Species
The Savannah Sparrow is similar in appearance, but has a shorter tail.
Distribution
In summer, covers most of central U.S. to middle latitudes of Canada, but absent on the pacific coast; In winter, migrates to southern U.S. and Mexico. Widespread and fairly common within appropriate habitat.
Taxonomy
Polytypic. Consists of three subspecies.
Habitat
Open country; prairies and fields, often near stands of trees.
Behaviour
Walks on ground, foraging for seeds and insects among grasses and bases of shrubs. Neither drinks nor bathes in water, extracting all the water it needs from its food. Enjoys frequent dust baths. Usually solitary or in pairs, although may form small family groups in breeding season, or loose flocks in winter.
External Links

Search the Gallery using the scientific name:
Search the Gallery using the common name:
GSearch checked for 2020 platform.