Alternative name: Vieillot's Black Weaver
Ploceus nigerrimus
Identification
Length 15-16 cm.
Adult male: A black weaver with a pale yellow eye (in eastern and central Africa). In western Africa, has a chestnut-brown back, rump and belly. Maxwell's Black Weaver has a pale grey eye, is slightly smaller, and is found in the forest canopy.
Adult female: Dark olive, streaked darker above, with pale eyes.
Distribution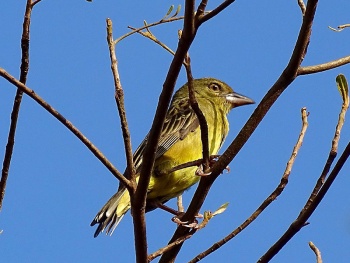 Africa: Guinea to northern Angola, western Tanzania and western Kenya.
Taxonomy
Ploceus nigerrimus has two subspecies:1
Habitat
Forest edge, secondary growth and villages.
Behaviour
Diet
Their diet consists mostly of insects such as grasshoppers, flying ants, termites, caterpillars and butterflies.
Breeding
They breed in colonies, often with Village Weaver.
References
Clements, J. F., T. S. Schulenberg, M. J. Iliff, D. Roberson, T. A. Fredericks, B. L. Sullivan, and C. L. Wood. 2015. The eBird/Clements checklist of birds of the world: v2015, with updates to August 2015. Downloaded from http://www.birds.cornell.edu/clementschecklist/download/
Sinclair I & Ryan P. 2003. Birds of Africa south of the Sahara. Princeton University Press. ISBN 0620207299
Handbook of the Birds of the World Alive (retrieved October 2015)
Recommended Citation
External Links