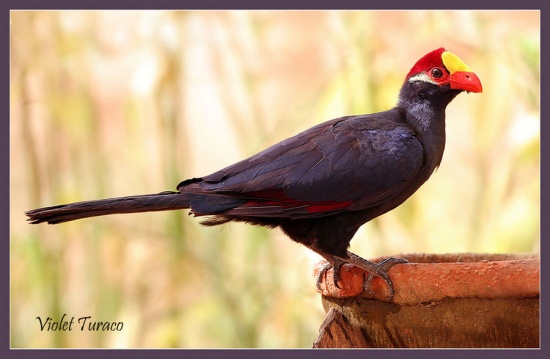 Musophaga violacea
Identification
50 cm (19¾ in)
Crimson head and nape
White ear-coverts
Yellow forehead
Glossy violet chin, throat and neck
Thick red bill
Crimson primaries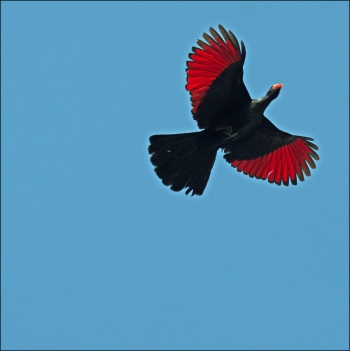 Distribution
West Africa: found from southern Senegambia to north-western Cameroon, southern Chad and Central African Republic
Taxonomy
This is a monotypic species[1].
Habitat
Gallery forests and forest edges, along water courses.
Behaviour
Breeding
They build a flimsy platform nest with sticks and twigs, placed in a tree about 6m above ground. The clutch consists of 2 eggs.
Diet
Their favourite food is figs, but they eat a variety of fruits, berries and seeds.
Vocalisation
Call: a loud cooroo-cooroo.
References
Clements, J. F., T. S. Schulenberg, M. J. Iliff, D. Roberson, T. A. Fredericks, B. L. Sullivan, and C. L. Wood. 2015. The eBird/Clements checklist of birds of the world: v2015, with updates to August 2015. Downloaded from http://www.birds.cornell.edu/clementschecklist/download/
Handbook of the Birds of the World Alive (retrieved April 2016)
AvianWeb
Recommended Citation
External Links