Charadrius marginatus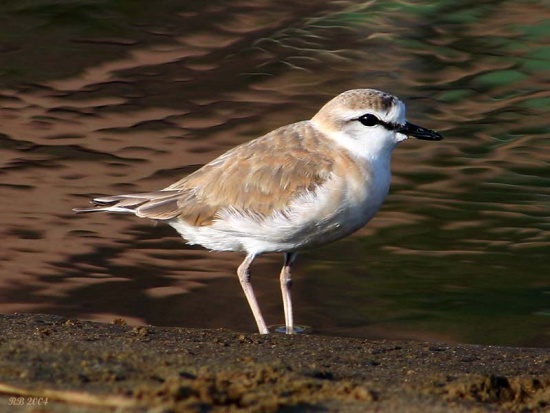 Identification
16-18 cm. Medium brown upperparts, white hind neck collar, white forehead extending back in a conspicuous wedge between the eye and the crown, black line through the eye, black frontal bar to the crown, white underparts with a variable cream or buff breast; there may be rufous patches on the breast sides. The bill is black and the legs yellowish-grey.
Distribution
Sub-Saharan Africa and Madagascar.
Taxonomy
Subspecies1
C. m. mechowi - Africa s of Sahara to n Angola, Botswana and Mozambique
C. m. marginatus - S Angola to sw Cape Province
C. m. arenaceus - S Mozambique to s Cape Province
C. m. tenellus - Madagascar
Habitat
Sandy beaches.
Behaviour
The eggs are laid directly into the sand and may be buried.
The diet includes insects, crustaceans and worms.
References
Clements, James F. 2007. The Clements Checklist of Birds of the World. 6th ed., with updates to October 2008. Ithaca: Cornell University Press. ISBN 9780801445019
External Links