Merops albicollis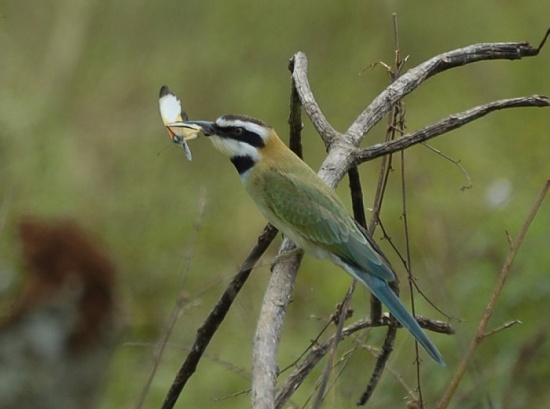 Identification
19-21 cm, plus 12-cm elongated central tail feathers. Green, white face and throat, black crown, eye stripe, and neckband, underparts are pale green shading to blue on the breast, red eye, black beak. Sexes alike.
Distribution
It breeds along the southern edge of the Sahara, Africa, wintering southern Senegal to Uganda.
Taxonomy
Monotypic.
Habitat
Breeds in semi-desert, dry sandy open country, thorn scrub and near-desert, winters in equatorial rainforests.
Behaviour
They nest colonially in sandy banks or open flat areas, making a 1-2 m tunnel in which the 6-7 spherical white eggs are laid. Both the male and the female take care of the eggs, but up to five helpers also assist with caring for the young.
The diet includes mainly flying ants and beetles.
External Links