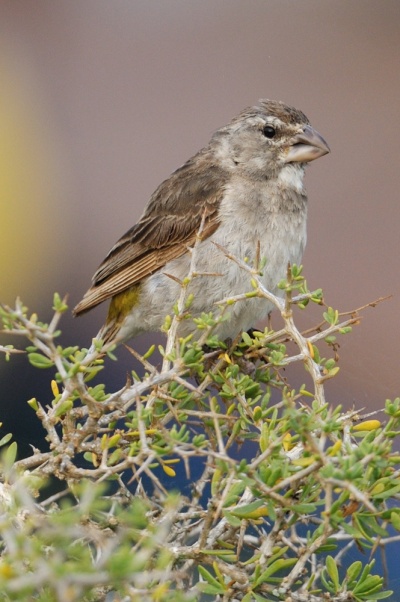 Crithagra albogularis
Serinus albogularis
Identification
Length 13·5–15 cm (5¼-6 in), mass 14-38 g.
A large, pale canary without streaked plumage. It has a white throat and greenish-yellow rump.
Distribution
From Lesotho to the southern and western coasts of South Africa, Namibia and south-western Angola.
Taxonomy
Subspecies
Crithagra albogularis has four subspecies:1
North-eastern and northern Cape Province and southern Namibia
Western and south-western Cape Province to eastern Cape and Griqualand
Northern South Africa (southern North West and western Free State)
An additional subspecies hewitti is not generally recognised as being too similar to C. a. sordahlae.2

Habitat
Shrubland, semi-desert, sparse woodland, coastal thicket and gardens.
Behaviour
Diet
Their diet consists mostly of seeds, berries and buds, especially euphorbia and sunflowers.
References
Clements, J. F., T. S. Schulenberg, M. J. Iliff, D. Roberson, T. A. Fredericks, B. L. Sullivan, and C. L. Wood. 2017. The eBird/Clements checklist of birds of the world: v2017, with updates to August 2017. Downloaded from http://www.birds.cornell.edu/clementschecklist/download/
Hockey, PAR, WRJ Dean, and PG Ryan, eds. 2005. Roberts' Birds of Southern Africa. 7th ed. Cape Town: John Voelcker Bird Book Fund. ISBN 978-0620340533
Handbook of the Birds of the World Alive (retrieved February 2016)
Recommended Citation
External Links