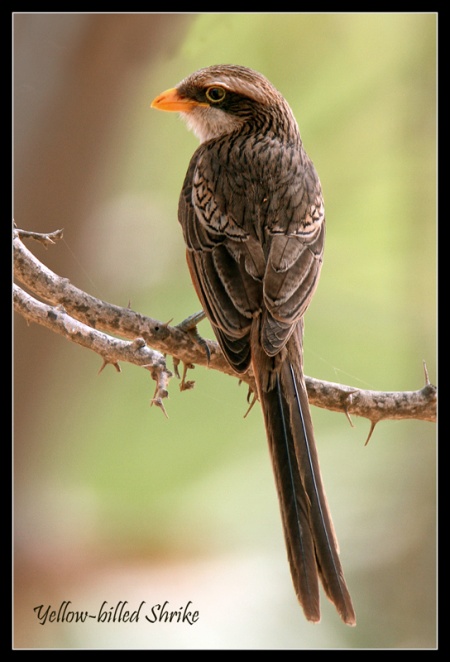 Identification
18cm

Mottled brown upperparts
Streaked buff underparts
Brown eye mask
Rufous wing patch
Yellow bill

Adults alike
Immatures have buff fringes to the wing feathers
Distribution
Africa:
Western Africa: Mauritania, Senegambia, Senegal, The Gambia, Guinea-Bissau, Guinea, Mali, Sierra Leone, Ivory Coast, Burkina Faso, Ghana, Togo, Benin, Nigeria, Niger, Chad, Cameroon, Central African Republic, Equatorial Guinea, Democratic Republic of Congo
Eastern Africa: Sudan, South Sudan, Kenya, Uganda
Taxonomy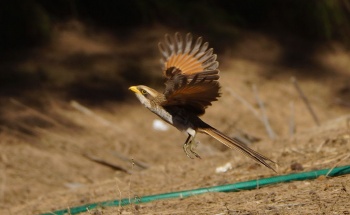 Subspecies
Four subspecies are recognized in this species[1]:
Habitat
Savannah woodland & dry scrub, also well-watered gardens.
Behaviour
They move around in family groups.
Breeding
It builds a cup shaped nest; the clutch consisting of 4-5 eggs. Subadult & young adult birds assist in the rearing of nestlings.
Diet
Their diet consists of a wide variety of larger insects, such as crickets and grasshoppers.
References
Clements, J. F., T. S. Schulenberg, M. J. Iliff, D. Roberson, T. A. Fredericks, B. L. Sullivan, and C. L. Wood. 2017. The eBird/Clements checklist of birds of the world: v2017, with updates to August 2017. Downloaded from http://www.birds.cornell.edu/clementschecklist/download/
Avibase
BF Member observations
Handbook of the Birds of the World Alive (retrieved January 2015)
Wikipedia
Recommended Citation
External Links