Camera Land / Supporting Vendor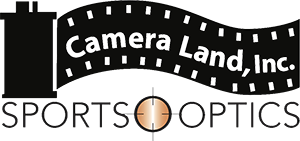 [align:center]
5 Day Camera "Cyber Tent Sale" Event Now through Saturday August 26th.
[/align]
[align:center]
Cameras - Lenses - Flashes
[/align]
This is a special Call in Sale, 516-217-1000, to get you your new Canon, Nikon, Olympus, Tamron, Sigma & Godox at exceptional pricing. Call us at 516-217-1000 for Cyber Tent Sale Special Pricing and please speak with Joel.
Joel will discuss different options with you so you can get the photo gear that best fits your need as well as exceptional pricing for your purchase. We are, and have been, a family owned and operated Camera Specialty Dealer since 1957. We may be your go to Sports Optics store, and would like to always remain that, but we started as a Camera Shop.
We look forward to speaking with you.
Save all year, using code bags23
- As a thank you for your support you can use this code all year to give you 15% off* at checkout for the Brands and items listed below. Just put the phrase,
bags23
in the discount code area and the 15% reduction will be applied......
Tenba Bags - Benro Tripods & Heads - Gitzo Tripods & Heads - Sirui Tripods & Heads - Slik Tripods & Heads - Peak Design - Tamrac Bags - Promaster, Full Line - Nisi Photo Filters

* The 15% off does not apply to already discounted sale items
We offer ZERO % financing on all web orders. Please look at Affirm at check out, if this is something that interests you, for 0% financing.
Check out our new
Apparel Section
We are doing our best to offer super deals in our
Flash Sale Section
and to change these great deals weekly.
At
Camera Land
we've been working hard to save you money and get you great products.
Check out our Just Arrived Section and remember to Enter Our Monthly Web Drawing
If there is anything you're looking for please give us a call at 516-217-1000. It is always our pleasure to speak with you.
Always give a call to discuss options and what would be best for your needs
We appreciate all the orders and support. Please stay well and safe. Have a great day & please follow us on Instagram at gr8fuldoug_
Thank you for your continued support.
If there is anything else that we can assist you with please let us know.
Camera Land
720 Old Bethpage Road
Old Bethpage, NY 11804
516-217-1000
Please visit our web site @
www.cameralandny.com