Camera Land / Supporting Vendor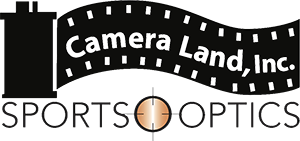 Inventory Levels Are Excellent
It's a great time to be acquiring new optics. Inventory Levels are better than they have been in a while and our July Sale is running through the 18th. Save on what you want and in most cases it's ready to ship.
In the past week we've received great deliveries from Athlon, Kowa, Leica, Meopta, Swarovski, Hawke and Tripods. Steiner and Burris have had a great flow of product the last month or so and our in house inventory is great.
Give a call, 516-217-1000, to discuss what you're looking for and we'll get you hooked up.
We now offer ZERO % financing on all web orders. Please look at Affirm at check out, if this is something that interests you, for 0% financing.
Check out our new
Apparel Section
We are doing our best to offer super deals in our
Flash Sale Section
and to change these great deals weekly.
At
Camera Land
we've been working hard to save you money and get you great products.
Check out our Just Arrived Section and remember to Enter Our Monthly Web Drawing
If there is anything you're looking for please give us a call at 516-217-1000. It is always our pleasure to speak with you.
Always give a call to discuss options and what would be best for your needs
We appreciate all the orders and support. Please stay well and safe. Have a great day & please follow us on Instagram at gr8fuldoug_
Thank you for your continued support.
If there is anything else that we can assist you with please let us know.
Camera Land
720 Old Bethpage Road
Old Bethpage, NY 11804
516-217-1000
Please visit our web site @
www.cameralandny.com