Camera Land / Supporting Vendor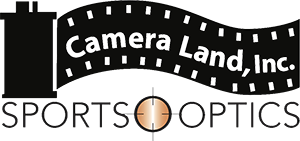 It's Not All About Pricing
Price is always a consideration, however, it shouldn't be the go to for how business is done. Yes, there are great deals to be had, however, the best part of the deal is dealing with
Camera Land
. We are a family owned and operated business since 1957. We pride ourselves on customer service. We try our best to not only support our customers but anyone who owns/uses any brands that we carry. If you ever have an issue with any brand(s) we handle we are here to assist you whether you purchased from us, or elsewhere. We are here for you not only at the time of purchase but also for post purchase support and intel.
We always suggest that you take the time to call us, 516-217-1000, to discuss the product(s) you're interested in. To get more information in order to assist in choosing the right product for your need. Whether you wind us buying from us or from somewhere else.
We continue the legacy our father taught us, that it's all about customer service. We are the neighborhood store that many of us grew up with before corporate America took over and mass merchants squeezed out the mom and pop shops. Please give us the opportunity to be your neighborhood go to shop. We're sure you'd agree about the importance of supporting small business. Perhaps we will be the best price. We certainly will do all we can to provide the best shopping experience. Again, please call us so we can give personalized service and work together to not only get you the right item, but to make sure you're happy.
Thank you for the opportunity to "meet" you and to become your go to Photo & Sport Optics store.
We offer ZERO % financing on all web orders. Please look at Affirm at check out, if this is something that interests you, for 0% financing.
Check out our new
Apparel Section
We are doing our best to offer super deals in our
Flash Sale Section
and to change these great deals weekly.
At
Camera Land
we've been working hard to save you money and get you great products.
Check out our Just Arrived Section and remember to Enter Our Monthly Web Drawing
If there is anything you're looking for please give us a call at 516-217-1000. It is always our pleasure to speak with you.
Always give a call to discuss options and what would be best for your needs
We appreciate all the orders and support. Please stay well and safe. Have a great day & please follow us on Instagram at gr8fuldoug_
Thank you for your continued support.
If there is anything else that we can assist you with please let us know.
Camera Land
720 Old Bethpage Road
Old Bethpage, NY 11804
516-217-1000
Please visit our web site @
www.cameralandny.com