Beside the Duddon, Cumbria
Supporter

(I will remove any of these photos if any one objects as they show eggs and "nests", albeit not typical bird's "nests")
A short distance away from my home is a rather fine little seabird colony. It's not a huge colony, maybe 15 - 16000 birds in total - mostly Common Guillemots/Murres, with Razorbills, Black-legged Kittiwakes, Northern Fulmars, Atlantic Puffins, Black Guillemots, Cormorants and Herring Gulls. Large numbers of Northern Gannets pass by close inshore and in the right conditions Manx Shearwaters too.
It's been out of bounds for me though for several weeks now as I need to drive thirty six miles to get there, but I took advantage of the easing of lockdown restrictions in England to visit it today. Social distancing was no problem on the clifftops; there was nobody else about.
It was a pretty cold, windy and dismal day but I really needed a fix of guano and I do like a wild clifftop walk. I wasn't disappointed. The strong updraughts along the cliffs meant I could smell the birds long before I could see or hear them.
Passerines were notable by their absence; presumably they were all hiding from the wind in the vegetation. A few Linnets, Common Whitethroats and Stonechats were visible, and a pair of Ravens were perched on the fence at the top of the first climb onto the cliffs.
Also notable were the number of Common Guillemot/Murre eggs lying broken in the grass on the clifftops. Nothing to worry about though. The Ravens and gulls take many eggs every year but have little impact on the overall numbers of Guillemots.
I spent three hours at the colony until I was too cold to linger any longer. Although everything I saw was pretty common I certainly wasn't disappointed. The Guillemots/Murres already had plenty of eggs. As is often the case some of the birds and eggs were particularly mucky, both being covered in guano.
On the walk back I saw a Raven with a large white object in its beak. Looking through the bins it appeared to be a Guillemot/Murre egg. The Raven landed briefly then took off again, contouring the cliff edge with its prize. Maybe it was a present for its mate. It could have eaten the egg itself but clearly chose not to.
I sat on the last headland before the descent to the carpark hoping for a sighting of Harbour Porpoises but there were none today. No matter though, I had thoroughly enjoyed my short, wild walk on the cliffs. (Pics continue on next post)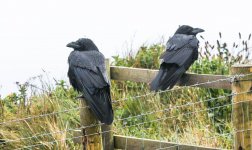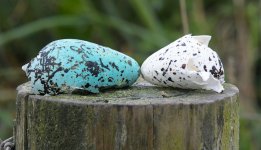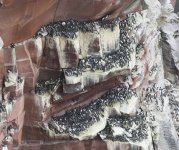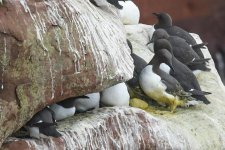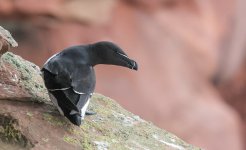 Pics show -
1. Raven pair
2. Common Guillemot/Murre eggs.
3. Part of the Guillemot/Murre colony.
4. Common Guillemots/Murres with eggs.
5. Razorbill.
Last edited: