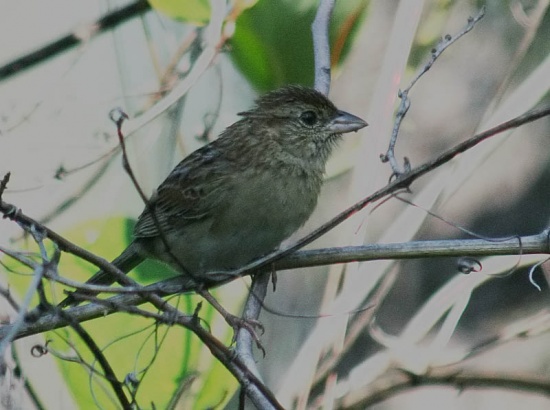 Peucaea aestivalis
Aimophila aestivalis
Identification
6" (15 cm)
Dull, streaked above, plain below, buff breast.
Distribution
South-eastern United States, breeding north to Illinois, Indiana, Ohio, and Pennsylvania, but very local.
Winters chiefly in southern Atlantic and Gulf Coast states.
Taxonomy
Subspecies
This is a polytypic species consisting of three subspecies[1]:
Oak-pine woods of Mid-Atlantic states to northern Gulf states
Was formerly placed in genus Aimophila.
Habitat
Mature long-leaf pine forest, scattered shrubs; also fields and pastures.
Behaviour
Ground feeder; the diet includes crickets, beetles, grass and sedge seeds.
References
Clements, JF. 2011. The Clements Checklist of Birds of the World. 6th ed., with updates to August 2011. Ithaca: Cornell Univ. Press. ISBN 978-0801445019. Spreadsheet available at http://www.birds.cornell.edu/clementschecklist/downloadable-clements-checklist
Recommended Citation
External Links