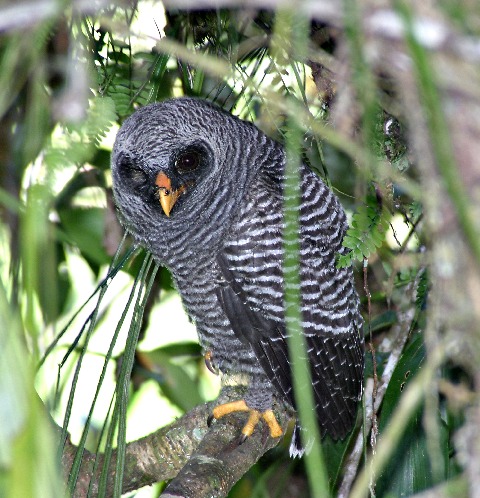 Strix huhula
Ciccaba huhula
Identification
Slate grey head
White flecked, dark grey banded underparts and tail
Dark eyes
Yellow beak, legs and feet
Distribution
South America east of the Andes from Venezuela to northern Argentina, but not in eastern Brazil.
Taxonomy
Has in the past been considered conspecific with Black-and-White Owl but the two have different vocalizations.
Ciccaba vs. Strix
Most authorities (Sibley & Monroe, 1996) retain Mottled Owl (virgata), Black-and-white Owl (nigrolineata), Black-banded Owl (huhula), and Rufous-banded Owl (albitarsis) in the genus Strix. König et al. state that the general morphology and phylogenetic evidence of these four species does not indicate separation from the rest of Strix, and Restall goes on to explain that they were originally separated into the genus Ciccaba based on anatomy of the external ear. As Clements (2022) and IOC (2022) also place these species in Strix, the Opus follows.
Subspecies
Two subspecies are recognized[1]:
Habitat
Mostly lowland humid forests, but has been recorded to 1100m on Andes foothils. Frequently at forest borders, and sometimes even in coffee and similar plantations.
Behaviour
Nocturnal, sometimes showing activity at dusk. Spends the day well hidden.
References
Clements, J. F., T. S. Schulenberg, M. J. Iliff, T. A. Fredericks, J. A. Gerbracht, D. Lepage, S. M. Billerman, B. L. Sullivan, and C. L. Wood. 2022. The eBird/Clements checklist of Birds of the World: v2022. Downloaded from https://www.birds.cornell.edu/clementschecklist/download/
Recommended Citation
External Links
GSearch checked for 2020 platform.