Strix virgata
Ciccaba virgata
Identification
29–38 cm (11½-15 in)
Vertical bars on chest and throat
White markings in the back
Dark eyes
Round head

The sexes are dimorphic
A fuller description of a single bird is: dark slender owl, with brown eyes, and a dark face, rimmed with white. The breast is very dark, with black streaks and bars. The belly is lighter with dark streaks. The back is blackish brown.
Distribution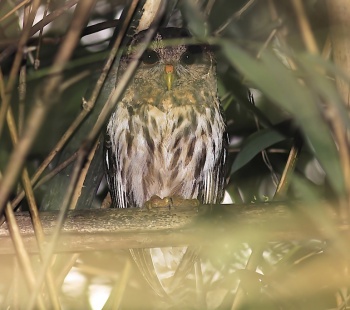 Central and South America
Central America: Mexico, Guatemala, Belize, El Salvador, Nicaragua, Costa Rica, Panama and Trinidad
South America: Colombia, Venezuela, Guyana, Suriname, French Guiana, Ecuador, Peru, Bolivia, Brazil, Paraguay and Argentina.
Accidental vagrant to Texas (1 specimen record).
Taxonomy
This is a polytypic species[1 consisting of 7 subspecies

Ciccaba vs. Strix
Most authorities (Sibley & Monroe, 1996) retain Mottled Owl (virgata), Black-and-white Owl (nigrolineata), Black-banded Owl (huhula), and Rufous-banded Owl (albitarsis) in the genus Strix. König et al. state that the general morphology and phylogenetic evidence of these four species does not indicate separation from the rest of Strix, and Restall goes on to explain that they were originally separated into the genus Ciccaba based on anatomy of the external ear. As Clements (2022) and IOC (2022) also place these species in Strix, the Opus follows.
Subspecies
Western Mexico (Sonora to Guerrero, Guanajuato and Morelos)
North-eastern Mexico (southern Nuevo León and Tamaulipas)
South-eastern Mexico (Oaxaca and Veracruz) to western Panama
North-central and north-eastern Amazonian Brazil
Habitat
Bamboo glade: Riparian foothills of Atitlan Volcano; secondary cloud forest with coffee and ornamentals with scattered dense bamboo glades at ca. 1000 m elevation.
Behaviour
They are territorial.
Diet
They have a rather varied diet, consisting of large insects such as beetles, grasshoppers and cockroaches. They also eat some small mammals.
Vocalisation
The call is a series of up to five soft hoots which on some recordings have a growling quality.
References
Clements, J. F., T. S. Schulenberg, M. J. Iliff, T. A. Fredericks, J. A. Gerbracht, D. Lepage, S. M. Billerman, B. L. Sullivan, and C. L. Wood. 2022. The eBird/Clements checklist of Birds of the World: v2022. Downloaded from https://www.birds.cornell.edu/clementschecklist/download/
Avibase
Handbook of the Birds of the World Alive (retrieved Aug 2018)
Wikipedia
BF Member observations
Birdforum thread with description of this species
Recommended Citation
External Links
GSearch checked for 2020 platform.