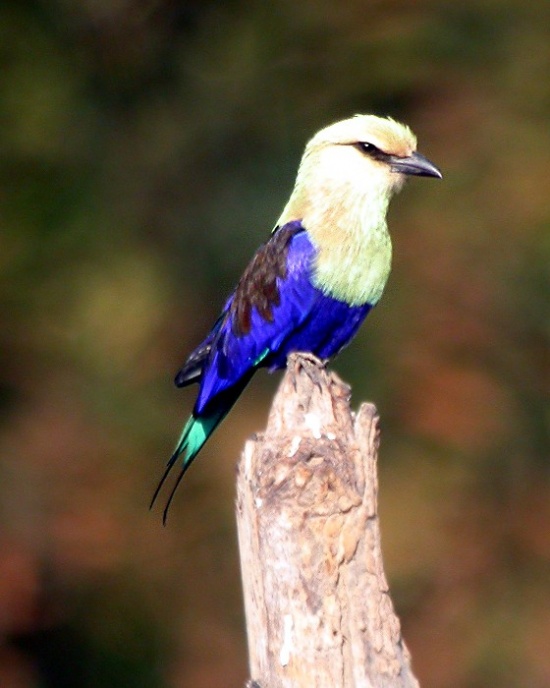 Coracias cyanogaster
Identification
28-30 cm

Dark green back
White head, neck and breast
Blue belly, tail and wings

Adults have 6cm tail streamers
Sexes similar
Juvenile: less brightly coloured than the adult
Distribution
Africa
Western Africa: Senegambia, Senegal, The Gambia, Guinea-Bissau, Guinea, Mali, Sierra Leone, Liberia, Ivory Coast, Burkina Faso, Ghana, Togo, Benin, Nigeria, Niger, Chad, Cameroon, Central African Republic, Equatorial Guinea, north-eastern Democratic Republic of Congo
Eastern Africa: extreme southern Sudan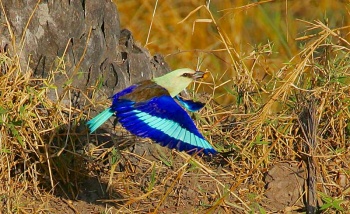 Taxonomy
This is a monotypic species[1].
Habitat
Moist savanna woodland (particularly oil palms) and coastal scrub.
The moist Guinea savanna woodlands that these birds inhabit are being replaced by much drier Sahel Savanna which is more suited to their equally attractive cousin the Abyssinian Roller. Fortunately Blue-bellied Rollers are still very common in the Western Division of the Gambia.
Behaviour
Breeding
Older youngsters assisting in the rearing of younger siblings
Diet
The diet includes grasshoppers, other large insects and small reptiles.
Vocalisation
Call: harsh ga-ga-ga.
References
Clements, JF. 2009. The Clements Checklist of Birds of the World. 6th ed., with updates to December 2009. Ithaca: Cornell Univ. Press. ISBN 978-0801445019.
Avibase
Oakland Zoo
BF Member observations
Recommended Citation
External Links