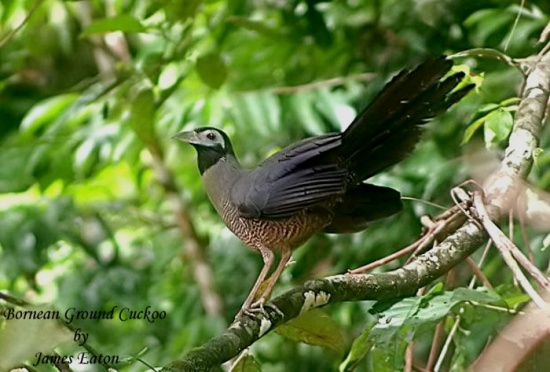 Carpococcyx radiceus
Carpococcyx radiatus
Identification
60cm.
Purple-glossed black head
Grey neck sides
Dull green mantle and back with purple gloss and coppery-red reflections
Rufous lower back and rump with dark bars
Unbarred coppery-violet wings and tail
Black chin and throat
Barred white and black rest of underparts
Green bare skin around eye
Sexes similar. Juveniles with greenish brown crown and unbarred below.
Distribution
South-east Asia: found in Borneo (Brunei, Malaysia and Indonesia).
Rare and patchily distributed.
Taxonomy
Bornean Ground Cuckoo is a monotypic [1]. species.
It was previously lumped with Sumatran Ground Cuckoo in Sunda Ground Cuckoo Carpococcyx radiceus (Sibley and Monroe 1990, 1993) which has been split into C. radiatus and C. viridis following Collar and Long (1995), who corrected the name radiceus to radiatus. Quote from IUCN Red List. However, most checklist still use radiceus and the Opus follows.
Habitat
Humid forest, mainly lowland and hill forest and primary forest on limestone soils.
Occurs at 300 to 1700m.
Behaviour
A terrestrial species but it nests and roosts in trees.
Diet
Feeds mainly on insects, takes also fruit. Forages on the ground, running and jumping. It sometimes follows army-ant swarms.
Breeding
Nests in trees. Only very few data.
Movements
A resident species.
References
Clements, J. F., T. S. Schulenberg, M. J. Iliff, B.L. Sullivan, C. L. Wood, and D. Roberson. 2012. The eBird/Clements Checklist of Birds of the World. 6th ed., with updates to October 2012. Ithaca: Cornell Univ. Press. ISBN 978-0801445019. Spreadsheet available at http://www.birds.cornell.edu/clementschecklist/downloadable-clements-checklist
Del Hoyo, J, A Elliot, and J Sargatal, eds. 1997. Handbook of the Birds of the World. Volume 4: Sandgrouse to Cuckoos. Barcelona: Lynx Edicions. ISBN 978-8487334221
BirdLife International
Recommended Citation
External Links