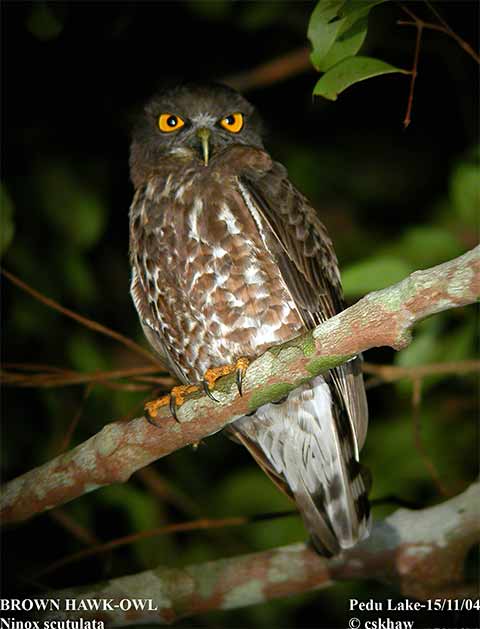 Alternative name: Brown Hawk-Owl
Ninox scutulata
Identification
27 - 33cm (10½-13 in); A medium sized owl which resembles a hawk with its long tail and wings.
Face dark with a small white patch between the yellow eyes. Plumage dark brown, barred tail, buffish-white to uniform dark belly, according to subspecies.
Sexes similar, but male smaller than female.
Similar Species
Told from other Ninox Owls by lack of white spots on back and dark head.
Distribution
Asia. From southeast Siberia over Manchuria, Korea, Japan, east and south China to Indochina (Burma, Vietnam, Laos, Thailand, Cambodia), Malaysia, Borneo, Sumatra, the Philippines and Java. Also in India and Sri Lanka.
A record of a dead bird in Australia.
Taxonomy
Taxonomy of this species needs further study.
Northern Boobook, Chocolate Boobook and Hume's Hawk-Owl were formerly included in this species.
Subspecies
This is a polytypic species consisting of 9 subspecies[1]
Northern India to western Assam and central peninsular India
Borneo and North Natuna Islands

Habitat
Forest. Wide variety of different forest types troughout range (e.g. rainforest, deciduous, evergreen, coniferous forest, even plantations, parks and suburbs.
Behaviour
Nocturnal. Roosts by day singly or in pairs in thick canopy.
Diet
Feeds mainly on insects (dragonflies, moths), catched in the air. Takes also crabs, lizards, amphibians, small birds, small mammals (including bats). Hunts in clearings, forest edges or cultivated area.
Breeding
Nests in a tree hole. Lays 2 - 5 eggs.
References
Clements, J. F., T. S. Schulenberg, M. J. Iliff, D. Roberson, T. A. Fredericks, B. L. Sullivan, and C. L. Wood. 2015. The eBird/Clements checklist of birds of the world: v2015, with updates to August 2015. Downloaded from http://www.birds.cornell.edu/clementschecklist/download/
Recommended Citation
External Links