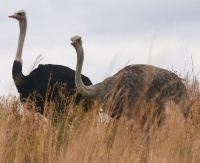 Genus: Struthio
Description
Ostriches of Africa.
Two large flightless birds well adapted to running and capable of maintain an average speed of about 50 km/h for a longer time.
Taxonomy
Struthio is a monotypic genus in the family Struthionidae.

References
Del Hoyo, J, A Elliot, and J Sargatal, eds. 1992. Handbook of the Birds of the World. Volume 1: Ostrich to Ducks. Barcelona: Lynx Edicions. ISBN 978-8487334108
Recommended Citation
Pages in category 'Struthio'
The following 2 pages are in this category, out of 2 total.