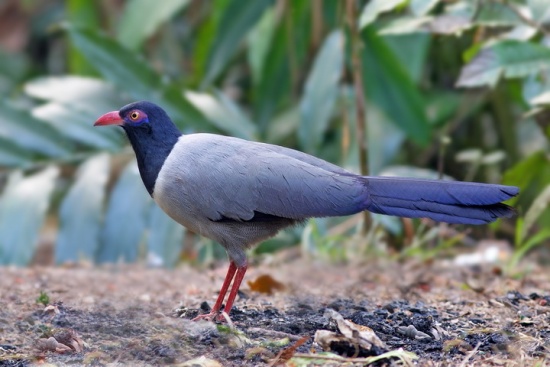 Alternative name: Renauld's Ground Cuckoo
Carpococcyx renauldi
Identification
65cm. A large terrestrial cuckoo.
Black head, neck and throat
Grey upperparts
Grey to rufous rump
Black primaries and tail
White underparts, lower breast and grey belly finely blackish vermiculated
Red and violet bare skin around eye
Dusky red bill
Sexes alike. Juveniles have dark grey upperparts, a brown head with grey around eye, a rufous and barred back, a brown rump, grey to rufous-brown chin to upper breast and a blackish bill.
Distribution
South East Asia: found in south-eastern Thailand, Laos, Cambodia and Vietnam.
Uncommon in its range.
Taxonomy
This is a monotypic species[1].
Habitat
Evergreen forest from plains to 900 m.
Behaviour
A shy, ground-living species. Runs away if disturbed.
Diet
Feeds on insects, small reptiles, small mammals and small birds.
Breeding
The nest is an open platform made of leaves, branches and twigs. It's placed low above the ground. Lays 2 to 4 eggs.
Movements
A resident species.
References
Clements, J. F., T. S. Schulenberg, M. J. Iliff, B.L. Sullivan, C. L. Wood, and D. Roberson. 2012. The eBird/Clements Checklist of Birds of the World. 6th ed., with updates to October 2012. Ithaca: Cornell Univ. Press. ISBN 978-0801445019. Spreadsheet available at http://www.birds.cornell.edu/clementschecklist/downloadable-clements-checklist
Del Hoyo, J, A Elliot, and J Sargatal, eds. 1997. Handbook of the Birds of the World. Volume 4: Sandgrouse to Cuckoos. Barcelona: Lynx Edicions. ISBN 978-8487334221
Recommended Citation
External Links