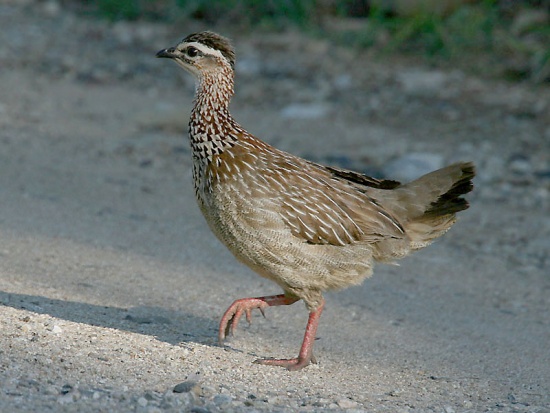 Dendroperdix sephaena
Identification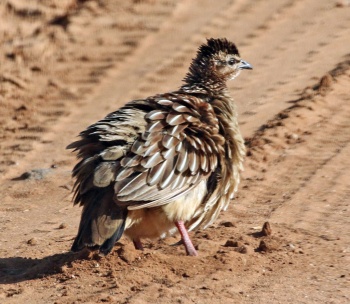 30–35 cm (11¾-13¾ in)
Dark brown crown
Chestnut blotching on neck and breast
Flecked white and brown
Broad white supercilium
Black bill
Red legs
Distribution
Southern Sudan, Ethiopia, western Somalia, Uganda, Kenya, Tanzania (excluding western regions), Mozambique, Zimbabwe, Zambia, southern Angola, northern Namibia northern and eastern Botswana and north-eastern South Africa.
Taxonomy
Formerly placed in the genus Francolinus.
Subspecies
Francolinus sephaena has five subspecies:[1]
Habitat
Thicket, woodland and densely wooded savanna. Favours areas with sparse ground cover.
Behaviour
Diet
Their main diet consists of insects (particularly termites) and their larvae, sedge bulbs and seeds.
Vocalisation
These are highly vocal birds which can be heard at intervals throughout the day as well as on bright moonlit nights.
References
Clements, J. F., T. S. Schulenberg, M. J. Iliff, D. Roberson, T. A. Fredericks, B. L. Sullivan, and C. L. Wood. 2018. The eBird/Clements checklist of birds of the world: v2018. Downloaded from http://www.birds.cornell.edu/clementschecklist/download/
Dickinson, EC, ed. 2003. The Howard and Moore Complete Checklist of the Birds of the World. 3rd ed., with updates to December 2007 (Corrigenda 7). Princeton: Princeton Univ. Press. ISBN 978-0691117010
Hockey, PAR, WRJ Dean, and PG Ryan, eds. 2005. Roberts' Birds of Southern Africa. 7th ed. Cape Town: John Voelcker Bird Book Fund. ISBN 978-0620340533
Sibley, CG and BL Monroe. 1996. Birds of the World, on diskette, Windows version 2.0. Charles G. Sibley, Santa Rosa, CA, USA.
Sinclair, I and P Ryan. 2003. Birds of Africa South of the Sahara. Princeton: Princeton Univ. Press. ISBN 978-0691118154
Recommended Citation
External Links