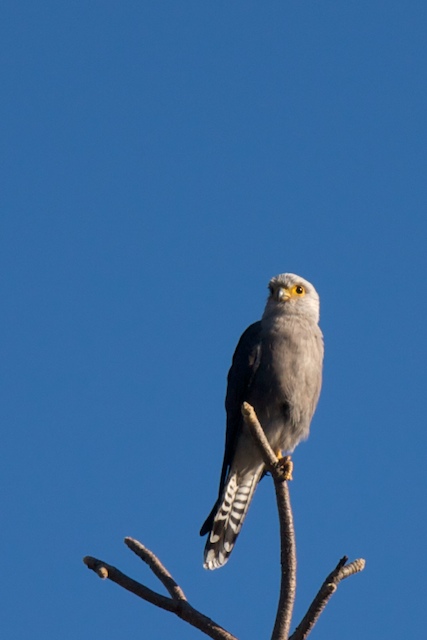 Falco dickinsoni
Identification
27-30cm (10½-11¾ in)
Dark grey plumage
Pale head and rump
Grey, narrow black barred tail with broad subterminal band
Barred underside of flight feathers
Yellow cere
Bare yellow eye skin
Brown iris
Dark grey bill

Female larger than the male Juvenile
Grey brown
Barred flanks
Green cere and eyering
Distribution
Sub-Saharan Africa. Southern Tanzania including Pemba, south to northern South Africa and west to southern Angola. Resident.
Taxonomy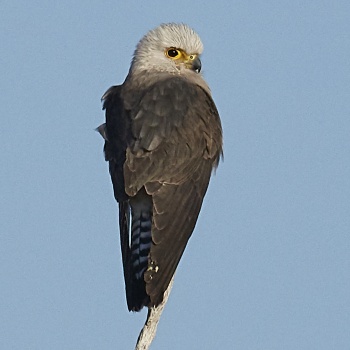 This is a monotypic species[1].
Habitat
Low-lying wooded savanna and cultivated land, particularly in floodplains.
Behaviour
Diet
The diet consists mainly of small birds, chameleons, grasshoppers, lizards, amphibians, bats, rodents and snakes.
Breeding
Often nests in a scrape in Borassus palms. The 1-4 cream eggs, have reddish-brown markings and are incubated by the female for 30 days; the young fledge about 33-35 days later.
References
Clements, J. F., T. S. Schulenberg, M. J. Iliff, D. Roberson, T. A. Fredericks, B. L. Sullivan, and C. L. Wood. 2016. The eBird/Clements checklist of birds of the world: v2016, with updates to August 2016. Downloaded from http://www.birds.cornell.edu/clementschecklist/download/
Handbook of the Birds of the World Alive (retrieved August 2017)
Wikipedia
Recommended Citation
External Links