Alternative names: Timor Whistler; Sunda Whistler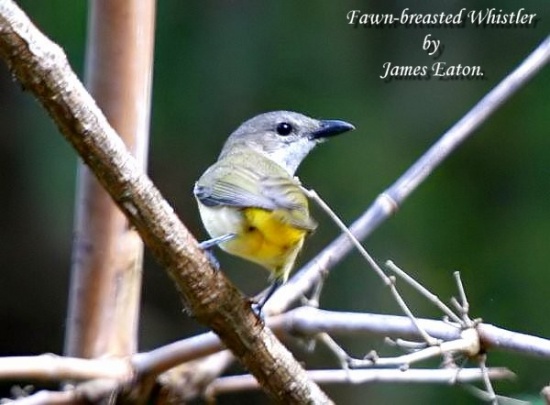 Pachycephala orpheus
Identification
14cm.
Whitish-grey forehad, lores and supercilium
Reddish-brown ear-coverts
Grey crown
Greenish olive-brown upperparts, dull yellow on rump and uppertail-coverts
Brown tail washed with yellow
White chin and throat
Light buffy fawn breast, paler flanks and belly
Yellow undertail-coverts
Dark brown eye
Black bill
Females are similar but have a less contrasting crown. Juveniles have some dark streaking on breast.
Distribution
Found on Wetar and Timor (Indonesia and Timor-Leste).
Quite common in its range.
Taxonomy
This is a monotypic species[1]. The proposed subspecies wetterensis from Wetar is usually not recognized.
Habitat
Monsoon forest, scrub, secondary growth and locall mangroves. Found from sea-level up to 1200m.
Behaviour
Usually seen foraging in understory and middle storey.
Diet
Feeds on insects.
Breeding
Juveniles seen in July and December. No other information about breeding.
Movement
A resident species.
References
Clements, J. F., T. S. Schulenberg, M. J. Iliff, B.L. Sullivan, C. L. Wood, and D. Roberson. 2012. The eBird/Clements Checklist of Birds of the World. 6th ed., with updates to October 2012. Ithaca: Cornell Univ. Press. ISBN 978-0801445019. Spreadsheet available at http://www.birds.cornell.edu/clementschecklist/downloadable-clements-checklist
Del Hoyo, J, A Elliott, and D Christie, eds. 2007. Handbook of the Birds of the World. Volume 12: Picathartes to Tits and Chickadees. Barcelona: Lynx Edicions. ISBN 978-8496553422
Recommended Citation
External Links