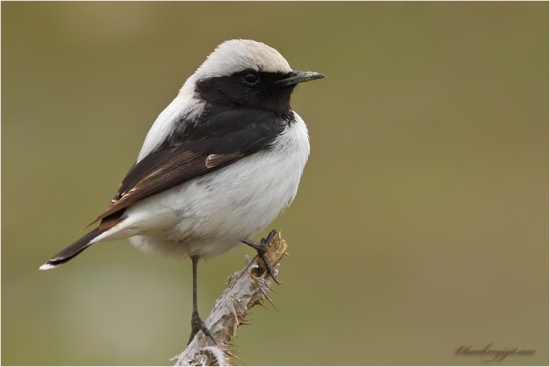 Oenanthe finschii
Identification
15-16 cm
Male
White crown (pale buffy in fresh plumage), narrow white stripe along the back through the rump and into the tail.
Black throat, cheeks, shoulders and wings, and typical wheatear inverted T at the end of the tail.
White underparts

Female
Silvery-grey above (wings blacker in worn plumage), paler below; tail pattern as in male. Throat variable, can be pale grey to blackish.
Similar species
Mourning Wheatear has a black upper back, less sexual dimorphism (females much as males), and is marginally larger and longer-billed, but otherwise similar.
Distribution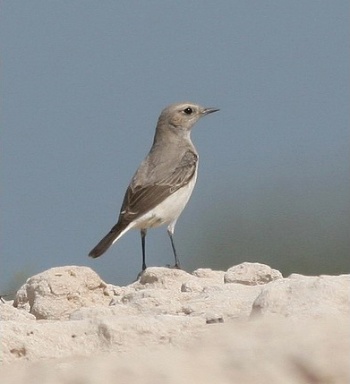 Primarily in southwest Asia, marginal in southeast Europe and northeast Africa. A short distance, often altitudinal migrant, breeding in the drier mountains of Turkey, Syria, Lebanon, Iraq, the eastern Caucasus (north to Dagestan in southernmost Russia), Georgia, Armenia, Azerbaijan, Iran, Turkmenistan, Uzbekistan, Tajikistan, Afghanistan, and northwestern Pakistan; wintering south to Cyprus, Israel, Jordan, Kuwait, and northern Saudi Arabia.
Outside Asia, small numbers reach Europe in the eastern islands of the Aegean in Greece, and Africa in northern Egypt in winter.
A vagrant in Bulgaria, India, Qatar.
Taxonomy
Subspecies
Two subspecies are accepted[1]:
Western and southern half of the range, from Turkey to southwestern Iran; winters to Israel, northern Arabia, Cyprus and Egypt
Northeastern half of the range, from northeastern Turkey to eastern Caucasus, northern Iran, Afghanistan and northwestern Pakistan. Slightly longer-billed and longer-winged than nominate subspecies, increasing similarity to Mourning Wheatear.
Habitat
Breeds on barren rocky mountainsides, mostly at 700-2200 m altitude, often in ravines; in winter in hills and plains with or without scattered shrubs.
Behaviour
A shy bird, it will not tolerate the presence of other wheatears in the breeding area.
Breeding
The nest is usually in a crevice between rocks.
Diet
The diet consists mostly of insects, but some plant material is consumed.
References
Clements, J. F., T. S. Schulenberg, M. J. Iliff, B.L. Sullivan, C. L. Wood, and D. Roberson. 2013. The eBird/Clements checklist of birds of the world: Version 6.8., with updates to August 2013. Downloaded from http://www.birds.cornell.edu/clementschecklist/download/
Avibase
Collins Bird Guide ISBN 0 00 219728 6
Recommended Citation
External Links