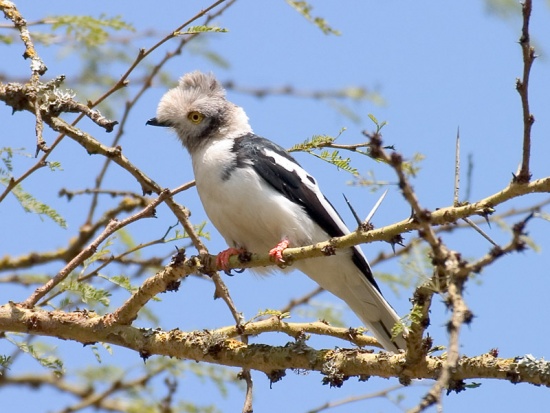 Prionops poliolophus
Identification
Length 24-26 cm (9½-10¼ in)
Tall erect grey hindcrest, black ear coverts and white collar; upperparts black with white wing bar and underparts white with black patches on the sides of the breast. The eye is yellow and the bill black.
Similar species
White Helmetshrike is smaller, has yellow eye wattles and lacks the black patches on the sides of the breast.
Distribution
South-western Kenya and western Tanzania including the Serengeti and Masai Mara Parks.
Taxonomy
This is a monotypic species[1].
Habitat
Dry thornscrub and open woodland.
Status
Classified as Near Threatened in the 2011 IUCN Red List, largely as a result of habitat degredation.[2]
Behaviour
Largely sedentary; this species occurs in flocks of up to 12.
Diet
Little has been recorded, but it is presumed their main diet consists of insects. Young are fed on insect larvae.
Vocalisation
Bill snapping, churring and clicking.
Breeding
A cooperative breeder, nesting April to May in Kenya. The cup-shaped nest is made using grass and spiders web.
References
Clements, J. F., T. S. Schulenberg, M. J. Iliff, D. Roberson, T. A. Fredericks, B. L. Sullivan, and C. L. Wood. 2015. The eBird/Clements checklist of birds of the world: v2015, with updates to August 2015. Downloaded from http://www.birds.cornell.edu/clementschecklist/download/
BirdLife International (2011) Species factsheet: Prionops poliolophus. Downloaded from http://www.birdlife.org on 20/1/2011
Handbook of the Birds of the World Alive (retrieved August 2015)
Recommended Citation
External Links